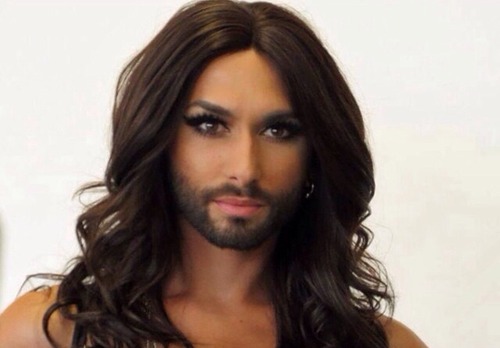 As a PR professional and a former radio DJ, I'm interested in how singers become world-renowned. As one of Eurovision Song Contest winner Conchita Wurst's biggest admirers, I'm currently thinking about things I can do to help her become an international superstar.
That's because someone with the incredible drive and ambition Conchita Wurst has, along with her refusal to allow the bigots and homophobes to destroy her dreams, deserves help to get where she ultimately wants to be. At the top of the ladder — a world renowned music diva, and idolized by millions.
So, today, I put my thinking cap on and came up with a few tips for people like me. Tips for how fans can help Conchita Wurst become an international superstar.
That's because, if I'm feeling the way I am about her, I'm guessing there are tens of thousands more just like me. Fans who, if they spent a couple of minutes a day doing just a few things, could have an enormous impact on how visible Conchita Wurst is in the world of music, and how popular she becomes.
If that sounds like you, read on if you want to help her.
1. Like her Facebook page, follow her on Twitter – As silly as it sounds to some, the number of fans who are active on a singer's Facebook and Twitter pages has an impact on how the music industry sees that singer. A thousand fans? Meh. Not important. A million fans? Suddenly people in the music industry are taking notice.
Because if a million people have liked her Facebook page and followed her on Twitter, those are people who might just buy her albums and concert tickets, and that means more interest for Conchita from people in the industry who can help further her dreams.
Don't forget to 'Like' her individual Facebook posts and tweets as well, and retweet the ones you love. Every time you do, it's a vote of confidence for her.
Conchita's Twitter account is here. Her Facebook is here. And, if you 'do' photos, her Instagram is here. Follow her on all of them.
Her stylist, the fabulous Thomas Reinberger, is also on Instagram and updates his account with new photos of her every day. Follow him too.
2. Watch her You Tube videos and subscribe to her channel – Conchita Wurst has a YouTube channel. Most of her content is old, but I have a feeling from recent changes she's making there's going to be a lot more new work going up there (*July, 2015 – she now adds new videos regularly). So, if you want to help the lovely Ms. Wurst become an international superstar, watch all her You Tube videos, 'Like' every one of them, and Subscribe to her channel.
Again, the more activity on her channel from fans, the more views her videos get, the more people in the music industry (and YouTube itself), take notice. I watch all her videos several times a month. If you have time, you can do the same.
3. Comment on Videos – YouTube bumps videos higher up their search depending on how many 'Likes', views and comments they have. Even if it's just to say "Hi Conchita, you're lovely", comment on the videos you watch. It helps her videos in the You Tube race to popularity and, thus, more views.
4. Read every online article about her you can find and comment on it – People who own websites generally write most about the things that get page views. That's why doing a search once a day for new Conchita Wurst articles, and reading them, will help make sure they keep writing about her, and keep her name in the public eye.
More publicity for Conchita Wurst means more offers for her, and that means more Conchita performances for us. A win-win situation for everyone.
5. If you can write, write about her – I'm a writer, so I write several article about Conchita Wurst every week. Either here on Leo Sigh, or at places like the wonderful Garrett Mulhall's website Eurovision Ireland or at Austria's The Local.
If you can write too, write about her. The more her name pops up online, the more popular she appears to those who matter.
6. Buy her music – Conchita Wurst currently has four singles available on iTunes . If you haven't bought them yet, buy them. If you already own them, buy them as a gift for someone else. Higher music sales means more publicity for Conchita, and more attention from the music industry.
*Update July, 2015 – Conchita's debut album 'Conchita' released in May and it's fabulous. Buy it on iTunes if you haven't already.
7. Thank the people who ask her to work with them – When people like Jean Paul Gaultier or Graham Norton invite her to work with them, thank them on their Twitter or Facebook page for doing so. They'll appreciate your appreciation, and may just ask her again.
8. Tell your friends and family – If you truly love what Conchita Wurst is doing, tell your friends and family about her and try to get more fans for her that way.
I'm currently in the process of trying to convert my mother to the 'Conchita side of life'. She's in her 70s, more conservative than I would like, but at least she's listening. We've now watched Conchita's performance at Eurovision together (she thinks she has a good voice), and I showed her La Wurst's ice bucket challenge. She laughed. It's a start. And I am persistent.
9. Take loved ones to her concerts – I'm currently not anywhere near where Conchita Wurst performs, but many of you are. If you're going to see her in concert, buy a ticket for someone who might not otherwise go and take them with you. After all, you'd have to be pretty stony-hearted not to love her when you saw her in person. Result? New fan. Yay!
10. Get her beard tattooed on your arm 🙂 – Okay, I'm probably the only one invested in her success enough to do this, but there might just be a few more of you out there. I got Conchita Wurst's beard tattoed on my arm a month ago, and it's amazing how many people have already asked what it is and why I have it.
That has then opened up the door for me to talk about her, show them a video of her singing on my always-with-me tablet and, if nothing else, start a conversation and get her name out there. Besides, who doesn't love a cool tattoo? (Okay, my mother doesn't. But that's a different article).
These are just a few things fans can do to help Conchita Wurst become an international superstar. There are more. The point is, do something small every day to support this artist so many of us adore, and she'll be in our lives for decades.
Personally? I can't imagine anything more fabulous.
Did You Miss These?