100 best things Conchita has done from 2014-2017 (#20-11)
I'm getting into the 'crunch' when it comes to choosing the top 20 of the best things Conchita has done since winning Eurovision. After all, with so many brilliant things this extremely talented person has done over the last three years, it is so incredibly difficult to choose.
Some do stand out, some are just personal favorites and a couple are just of the "Honey, what the hell?" variety I just could not leave out.
Here are numbers 20-11.
20 — Conchita Live mit Band tour, 2016
Now, while I've already mentioned Conchita's Porgy and Bess concert (#40) — the first concert from her first ever concert tour — I am also including the entire concert tour at number 20.
Because this was not only just about one of the best things that had ever happened to her (did you see how she grinned about it when she was asked in various talk shows?), it was also a huge deal. Because every singer dreams of their first concert tour and this, this was hers. And she was so goddamn proud of it.
Besides, concert tours are expensive. Finding venues that you can perform at is time-intensive. Trying to figure out how many tickets you think you will sell two years after you won Eurovision, and not being a world-superstar (yet!) is extremely difficult to get right (and she miscalculated at Porgy and Bess — she could definitely have sold more!).
Then planning the whole show, putting together a good band (and they were!), figuring out which songs to perform and what to say during those monologues, and of course what to wear, and then going from venue to venue and giving a damn good show. All of that is a helluva lot of work, and could have easily been a flop.
But Conchita (and her team!), she pulled it off brilliantly. To such an extent, the two concerts on the tour I saw (at Porgy and Bess, and at MUTH) were superb, the videos I saw of the other concerts on her tour (12 in all) were exceptional, and I have yet to speak to anyone that attended any of them and didn't just absolutely love what she did.
** And let me just add here, Conchita has just kicked off her second concert tour this year with a fabulous show at Burgarena Finkenstein in Austria last week. She has a lot more concerts coming up, and you can get tickets for all of them via her website.
19 — Conchita on 'It Takes 2'
Earlier in the year, Conchita was a judge on the RTL German talent show "It Takes 2" and, while I was not a gigantic fan of a couple of the looks she had while she was filming the show's episodes, I'm adding this onto my list of best things Conchita has done because there was just so much that was brilliant about it.
First, you have Conchita who changed her look for every show, so what we got was Conchita like you have never seen her before (and one look which, if I scratched my eyes out I would still never be able to forget! — sorry love 🙂 ).
There were a plethora of beautifully filmed and edited 'It Takes 2′ vlogs from her social media manager André Karsai, (watch them all above), Conchita's appearance as a judge on the shows themselves and, of course, the series of black and white videos she did after the show ended. Videos of covers of songs some of the contestants performed on the show (see one below).
All in all, it was a truly lovely opportunity she was given and Conchita, as always, was perfection personified throughout all of it.
18 — Conchita on ZDF's 'Markus Lanz'
Out of all the TV talk shows Conchita has appeared on over the last three years, her appearance on the ZDF show 'Markus Lanz' in June, 2015 is still one of her best.
Why?
Because this was a show which cemented for me just why she is going to be a superstar one day.
And that is the level of focus she has here, beyond anything I have ever seen from anyone else. Because you do not get this kind of focus from most people, and it is the main quality that is enabling her to get exactly what she wants out of life and to be exactly where she wants to be.
I wrote extensively about what I saw in her 'Markus Lanz' appearance here, but let me just add, in the two years since that appearance, Conchita's focus has not lessened one jot. If anything, she is focused like a laser beam.
17 — Conchita performs 'Unchain My Heart' at Landler Kirtag
We have seen Conchita perform her cover of 'Unchain My Heart' quite a few times over the last couple of years. But her first performance of it came at Landler Kirtag in Austria in August, 2014.
What is special here is it's one of the first times we see Conchita on stage in a teeny tiny leather dress that is pure sex, and meant to be that way, and the performance she gives of Ray Charles/Joe Cocker's 'Unchain My Heart' along with it is phenomenal — because those high notes? They just keep on coming and coming and coming.
Plus that cute little dance she does during the saxophone solo is the sweetest thing ever.
Almost three years later, and it is still one of my favorite Conchita performances of all time.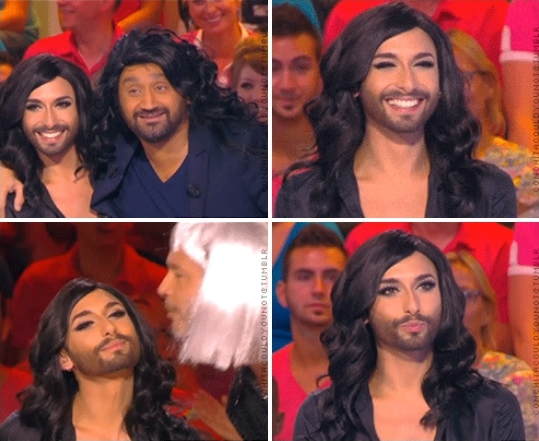 16 — Conchita does 'girly' in Paris, 2014
This is still one of my top 10 Conchita TV shows, and it's a show she appeared on in Paris in September, 2014.
Because, not only is she the girliest girl I've ever seen – waaaaaaay girly than I have ever been or will ever be — but she is sweet and funny and charming and sexy and soooooo incredibly attracted to an older guy that kisses her and bouncy and flirty and…………seriously, read the article I wrote about her at the time where I analyzed her facial expressions, because she was someone you could not help falling in love with there.
And then watch those fecking fabulous GIFs.
Because that Conchita, she just blew me away with how adorable she was.

Conchita Wurst – You Are Unstoppable (Unser… von oranzhevoe-nastroenie
15 — Conchita debuts 'You Are Unstoppable' at Unser Song für Österreich (USFO)
Conchita's debut performance of her single 'You Are Unstoppable' took place during Germany's Eurovision Song Contest selection show — Unser Song für Österreich (USFO) — in 2015. And it was, at that point, one of the best live performances she had given.
Why?
Because not only did she look stunningly gorgeous and heart-breakingly beautiful in a gorgeous JCHOERL gown, and her voice was absolutely on point (and don't forget, this was the first time she had sung that single live and, boy, that must have meant a lot to her, it was also this (as I wrote at the time):
"And now let me point something out to you. Then watch her performance again so you see what I mean.
She's a teeny tiny person. She really is. On a huge stage (look at the height of that thing). And, during that entire performance, she barely moves. Only a raised arm, a few moments where the skirt of that stunning dress is tossed to the side, a majestically flung back shoulder, and a slow, brief walk to the front of the stage towards the end of the song.
Yet doesn't it feel like she was everywhere in that room? On every part of that stage. Down into the front stalls and up onto that balcony?
That's the mark of a superstar. To be able to project herself, her soul if you will, to every part of that enormous auditorium, while doing nothing more than standing still and pulling you in."
You can read the rest of what I wrote her, because that performance did astound me, but to this day it is still one of her most magnificent. (And Jesus, she has a lot).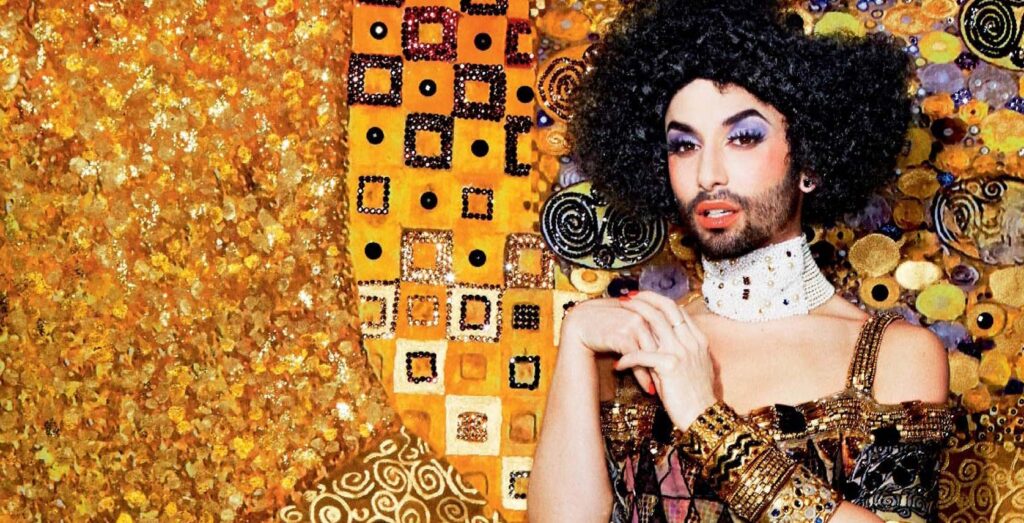 14 — Conchita as Adele Bloch-Bauer
Conchita continued her involvement with the hugely successful Austrian charity Life Ball in 2015 by being the face of the event with her portrayal of Austria's famous icon Adele Bloch-Bauer. The subject of the famous Gustav Klimt painting 'Portrait of Adele Bloch-Bauer'.
And it was something that was not only lovely in and of itself — Conchita in the most stunning of gowns and as Adele on Life Ball posters all over Vienna — but it was also something that made me think about the many similarities between Conchita and Adele, and how she could still end up like Adele in her painting did.
Taken out of the country she loved, and re-located to a country that did not create her but just wanted her for their own, simply because she was beautiful.
This is the article I wrote about it at the time, and some of it I definitely still wonder about.
But there is also something just as wonderful as the posters about Conchita as Adele Bloch-Bauer.
And that is a short video that was created called 'The Making of the Life Ball Poster'. Watch it below and you will see what a beautiful spirit that girl has, and how it shines through everything she does.
13 — Conchita's video for 'Heroes'
Conchita's official video for her single 'Heroes' is a black and white work of art.
Obviously influenced by French musician Woodkid, but conceived and designed by Conchita herself, her vision is beautifully crafted and stunningly executed in a music video that tells a story with an important message, while still giving a cheeky little dig at Russian president Vladimir Putin himself. (Putin was one of those who was outraged by Conchita's win at Eurovision in 2014 so, of course, it was time to give him a little nudge).
It also showed Conchita is far more than just a singer. She is a fully-fledged artist in her own right with so many different facets to her talents and her personality, it is quite breathtaking to see.
12 — Conchita's Bad Mitterndorf concert and that incredible sound check
On September 7th, 2014, Conchita went back to her home town of Bad Mitterndorf to perform in concert. And what grabbed me about this concert more than just about any other she has done before or since was that it was in the place where she (he — Tom Neuwirth) spent much of her childhood being bullied because she was gay.
And I cannot imagine how difficult of a concert that was for her to do. Something you can see on her face in some of the videos as she looked out over the crowd of people, some of whom were there claiming to support her but that who, in the past, had been nothing but cruel.
But also, I imagine, in some ways it was a cathartic concert for her as it gave her the chance to shove herself in the faces of all those people who had hurt her and say "See, I told you I was going to be someone".
It was also the concert in which she gave a speech on stage and almost broke down in tears (and didn't everyone who loved her just want to rush up there and hug her).
And it was also the concert in which she did this — this sound check that, to this day, I still don't think I have managed to get over. Because the first time I heard it, I just…gasped.
Watch Conchita's Bad Mitterndorf sound check in the video above. And remember, this is just a sound check.
** And, if you would like to see her perform in Bad Mitterndorf again, she has her second concert there coming up on 6th September. I'm going. And so should you. You can grab tickets here.
11 — Conchita at Crazy Horse, Paris
Conchita was invited to perform at the famous Crazy Horse cabaret in Paris in September, 2014. A venue known for its nude shows and cabaret acts.
And it was something that, up until then, I would never have thought she would do as it seemed so far removed from who she was and what she liked (now I know better, of course).
But what was the talk of the town when it came to Conchita at Crazy Horse was the big question.
Would she dance?
As Conchita back then was a bit of a wooden dummy on stage, and dancing was not in her repertoire.
Of course, not only did she dance (sort of!) at Crazy Horse, but her show was critically acclaimed and turned out to be yet another hit for her.
Well, yeah, you shouldn't be surprised as everything this incredible woman does seems to end up being golden.
Watch Conchita at Crazy Horse above in a video created by Parrot. Parrot hired Conchita to promote their Parrot Zik 2.0 headphones and, yep, she was phenomenal doing that as well.
That completes number 20 through 11. I'll be back on Sunday with the final 10.
And, if you missed them, these are links to numbers 100 through 21.
100 best things Conchita has done #100-91
100 best things Conchita has done 90-81
100 best things Conchita has done #80-71
100 best things Conchita has done #70-61
100 best things Conchita has done 60-51
100 best things Conchita has done 50-41
100 best things Conchita has done 40-31
100 best things Conchita has done 30-21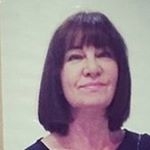 Latest posts by Michelle Topham
(see all)