One of the best anime series released during the Fall 2020 anime season seems to have fallen through the cracks when it comes to getting a massive amount of attention.
That series is the utterly adorable Adachi to Shimamura, which just isn't getting the recognition this lovely anime deserves.
Because it is not just the sweet characters, the superb voice acting and the stunning artwork that make the series much more of a standout than many of the usual slice of life/romance anime we get.
Where music is concerned, it is also the addictive Adachi to Shimamura opening theme song that quickly worms its way into your brain.
Called 'Kimi ni Aeta Hi', and sung by Adachi and Shimamura (aka voice actors Akari Kitou and Miku Itou), the Adachi to Shimamura opening theme song is soft, sweet and embodies the whole feel of this gorgeous anime perfectly.
And yes, it is a slow-burning earworm, because listen to it once and you might just find it annoying. Listen again, however, and you'll soon be hooked.
Just like me.
As for Adachi to Shimamura, sure, it is a yuri anime, but it is so darned wholesome you would hardly know.
Well, unless you weren't in love with one or both of the main characters yourself, which, let's face it most of us already are.
The anime series also features a beautiful soundtrack that relaxes you even more as you watch, while Shizue Kaneko (How NOT to Summon a Demon Lord) has created some of the nicest character design work on any anime series this fall. (continue reading below…)
The Adachi to Shimamura anime is based on the light novel series written by Hitoma Iruma and illustrated by Non, and has been animated by Tezuka Productions who are responsible for that soft, stunning almost dream-like artwork.
The equally beautiful background art is by Dr. Movie.
But tonight it is the Adachi to Shimamura opening theme song 'Kimi ni Aeta Hi' I can't get out of my head. Listen to it below, and you'll soon be humming it too.
As for Adachi to Shimamura, it is now nine episodes in of a 12-episode first season and is currently streaming on Funimation in the west.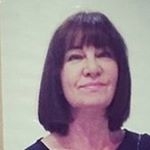 Latest posts by Michelle Topham
(see all)