The amazing Athens-based band Alabama Shakes was on David Letterman on Monday night singing their latest single 'Don't Wanna Fight' and, as usually happens in their live performances, kicked some major ass.
Of course, it's singer and guitarist Brittany Howard that really gives this band their 'oomph' with her funky soul voice, her intense performances and her fierce look, so it's no wonder she's been compared to Janis Joplin as she definitely has that 'feel'. But the band themselves are pretty damned cool as well, and certainly did a bang up job on Monday night's Letterman gig.
It's also almost three years since Alabama Shakes has been on Letterman, and Dave was right when he said "It's about time" they were back.
'Don't Wanna Fight' is from Alabama Shakes new album 'Sound and Color', which is due to be released some time at the end of April. So far, we've just heard this track and 'Gimme All Your Love' but, I have to say, if these two are any indication it's going to be stellar.
When it's released, you will be able to pick it up on iTunes.
Meanwhile, listen to Alabama Shakes' rocking performance of 'Don't Wanna Fight' live on The Late Show with David Letterman, and marvel at how good Brittany Howard is.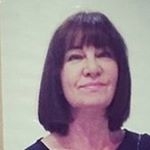 Latest posts by Michelle Topham
(see all)