While some Eurovision 2016 contestants really get glammed up, even for the first rehearsal, Albania's Eneda Tarifa went the opposite route for her first time on the Eurovision stage in Stockholm. Instead of a glamorous evening gown or something sparkly, Tarifa chose black leather pants, a white jacket and a white floral print t shirt instead, but she still managed to look stylish and cool.
Interestingly too, Tarifa has also gone with red hair for Eurovision 2016 which, in my opinion at least, does not suit her as well as her signature blonde locks.
As for Eneda Tarifa's staging of her Eurovision entry 'Fairytale', she had three backing singers during her first rehearsal, a blue backdrop and stage smoke.
Not particularly spectacular so far, so it will be interesting to see if/how it develops as rehearsals go on, as her original performance of the song during the Albania National Final was quite a bit more extravagant due to the lighting, her gown and the on live stage orchestra.
Sadly, though, Tarifa is singing 'Fairytale' in English. Unfortunate, as it was a much better song in her native Albanian. My guess? Probably not a finals qualifier. Then again, stranger things have happened.
We'll get to see Tarifa's actual first live performance of 'Fairytale' at the Eurovision 2016 second semi-final on May 12th. I'm guessing we'll see quite a lot of changes. Meanwhile, watch part of her first rehearsal in the video below.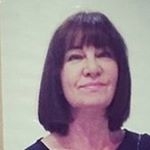 Latest posts by Michelle Topham
(see all)