Allison Janney is one of my all-time favorite actresses, and an absolutely fabulous woman. So, yes, I do watch every TV show and movie she is in and see every talk show appearance.
Janney's appearance this week on The Late Show with Stephen Colbert was no exception and, boy, am I glad I did.
Because Allison Janney is not only smart, funny, nice and gorgeous (and, at 56, has a boyfriend 20 years younger than her — you go, girl!), but she also managed to seduce Stephen Colbert as well. Oh yes, she did.
Janney started off the interview talking about why she can no longer watch her usual morning news shows due to their obsession with the negativity of the current U.S. general election.
Then Colbert asked her, "Well, do you ever watch yourself?"
"No!", Janney responded emphatically. "I enjoy the process of acting. I don't wanna watch myself do it. No. No. And, as I get older, it's harder to watch myself act, and watch the nibbles and bits that are…you know", and she grimaced.
"Wow, look at the nibbles on that woman", replied Colbert. Yep. He really went there.
Sadly, at that point, Allison Janney made the mistake of taking a sip of water, which she almost spat out as Colbert continued giving her hell.
But…being Allison Janney, she got her own back. Because, a few minutes later, when she and Colbert were acting out song lyrics she went in for the kill. Kissed Stephen right on the lips and, man, was that a kiss!
Watch her below. And then see Colbert's reaction. Fabulous, I say. F*cking fabulous.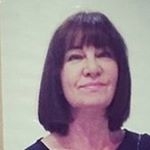 Latest posts by Michelle Topham
(see all)