I am always up for a new Cute Girls Doing Cute Things anime series. Especially if it comes with a theme that is based around a specific hobby.
I'm even happier if it's a yuri.
Let's face it, yuri anime, as long as it is done tastefully, is just the sweetest damn thing.
Hobby-related shows are also fun as, in true Japanese style, they usually educate you a little bit along with all the cute.
That's why Asteroid in Love, the latest series to be added to that ever-growing yuri pile, looks like it will end up being another anime I can recommend to fellow yuri lovers like me.
With its astronomy theme, it fits my Love a Good Hobby Anime criteria as well.
Mira and Ao in love
After all, a few minutes into the first episode, and the short but oh so sweet love affair between Mira and Ao, the boy she met several summers before, has quickly gone from girl meets boy to girl meets girl.
That's because, when Mira is reunited with Ao in her high school Earth Sciences Club a few years later, Ao turns out to not be a boy but a girl.
Not that that matters to Mira, as she is just as smitten with Ao as she ever was.
Throw in that the artwork and animation from Doga Kobo (New Game!, Gabriel DropOut) is very nicely done, and the character designs by Jun Yamazaki (Three Leaves, Three Colors and Uzamaid!) add just the right amount of cute and adorable to go along with the yuri, and Asteroid in Love could easily end up being one of my favorites of the season.
Especially because the whole thing just seems so warm and fuzzy.
Asteroid in Love ED is the perfect addition to this cute anime series
As for the Asteroid in Love ending theme song, doesn't that just make you love this adorable new anime series even more?
Called 'Yozora' and sung by Minori Suzuki (Amanchu Advance!, Magical Sempai), the Asteroid in Love ending theme is one of those anime songs that the first time you hear it you're obsessed.
Because Suzuki's vocals are girly and cute, the melody is addictive and the song builds to a chorus that, even if you don't speak a word of Japanese, you can still feel all that emotion.
Emotion I have a feeling we are going to get a lot of from Mira and Ao as the anime continues.
Listen to that lovely Asteroid in Love ED, and watch the pretty ending titles animation, in the Crunchyroll video below.
Yep, it's another anime track I am adding to our ever-lengthening list of Best Anime Songs. It so deserves it.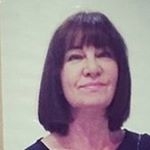 Latest posts by Michelle Topham
(see all)