There are some Instagram accounts that are simply perfection. From the first photo the person uploads to the latest — every photo says something smart or funny or interesting about the person, and stands out so much every time you see a photo from that account, you just know who its from without even looking at the name.
Today's Instagram Photo of the Day is from an account like that. An account that belongs to Norwegian singer Aurora. A woman who has such an endearingly quirky, strange and unique style about her, everything she does and sings and is, is lovely. And everything is so easily identifiable as her.
Case in point, my Instagram Photo of the Day from Aurora's account that is actually from four days ago. When Aurora appeared on The Howard Stern Show. And it's Aurora sat on a sofa, chin in hand, wearing owl-rimmed glasses and dreamily glancing off into the distance.
And she looks so sweetly, elfen-ly adorable, you almost catch your breath. Because how wonderful of a human being is she?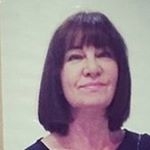 Latest posts by Michelle Topham
(see all)