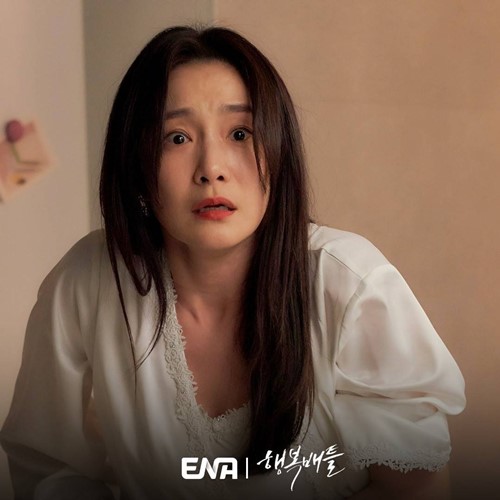 The South Korean drama Battle for Happiness, Episode 9 aired last night on ENA with increased ratings over its previous episode.
According to Nielsen Korea, Battle for Happiness, Episode 9 ratings nationwide were 1.97 percent, which is an increase of 0.26 percent over its previous episode.
Those rating also place it almost back to the drama's highest rating ever (2.01 percent for Episode 6).
In Seoul, the Korean mystery thriller is doing even better with last night's episode garnering the drama 2.33 percent of the audience share — an increase of 0.48 percent over Episode 8.
Battle for Happiness, of course, has seen a quite large increase in ratings since its first episode premiered on May 31st to just 0.70 percent of the audience share.
Something that could easily continue as the drama heads towards its final episode on July 20th.
International audiences and Battle for Happiness
Battle for Happiness features a stellar cast of Lee El, Jin Seo Yeon, Cha Ye Ryun, Park Hyo Joo, and Woo Jung-won.
Although the drama is, sadly, difficult to find on legal platforms outside South Korea, close to 2,000 people are currently rating it via My Drama List.
Over there, it is currently being graded a 7.9 out of 10, although the many positive comments about the show belie its quite low rating on the site.
Users who are currently watching Battle for Happiness are leaving comments like:
This show is way too underrated. Totally deserves recognition !!!
and
Love the cast btw. Everyone's so pretty…. they did a good job in casting every one of them.
Battle for Happiness airs every Wednesday and Thursday at 21:00 (KST) on ENA in South Korea, with Amazon Prime Video streaming it in a very select number of regions.
I am a Brit-American journalist, former radio DJ at 97X WOXY, and Founder/CEO of Leo Sigh. I'm also obsessed with music, anime, manga, and K-dramas. Help!