The first episode of the music anime BOCCHI THE ROCK! will premiere tomorrow so, in anticipation, we got another character trailer.
This time it is the guitarist Ikuyo Kita's character trailer, as well as an introduction of her voice actress Ikumi Hasegawa.
Advertising
And, like most of the rest of BOCCHI THE ROCK's other band members, Ikuyo Kita seems to be amped up on way too much sugar. At least if her hyperactive personality has anything to do with it.
Then again, a rock band with boatloads of energy is a thing of wonder to hear, so it probably isn't a bad thing, eh?
What is BOCCHI THE ROCK!
BOCCHI THE ROCK! is based on the manga of the same name by Aki Hamaji.
The anime is directed by Keiichiro Saito (key animator on Sonny Boy), with series composition being carried out by Erika Yoshida (Tower of God) and character designs by Kiyoki Rikuta (animation director/key animator on various My Dress-Up Darling episodes).
BOCCHI THE ROCK! will premiere on Crunchyroll tomorrow, October 8th, 2022.
Advertising
That streaming service describes the anime's plot like this:
Hitori Gotoh, "Bocchi-chan," is a girl who's so introverted and shy around people that she'd always start her conversations with "Ah…" During her middle school years, she started playing the guitar, wanting to join a band because she thought it could be an opportunity for even someone shy like her to also shine. But because she had no friends, she ended up practicing guitar for six hours every day all by herself.

After becoming a skilled guitar player, she uploaded videos of herself playing the guitar to the internet under the name "Guitar Hero" and fantasized about performing at her school's cultural festival concert. But not only could she not find any bandmates, before she knew it, she was in high school and still wasn't able to make a single friend!

She was really close to becoming a shut-in, but one day, Nijika Ijichi, the drummer in Kessoku Band, reached out to her. And because of that, her everyday life started to change little by little…
Watch BOCCHI THE ROCK guitarist's Ikuyo Kita's character trailer below, and look forward to what appears to be a high-energy anime with cute, cute girls and some damned cool music.
Don't know about you, but I'm looking forward to this one, as the characters look amazing!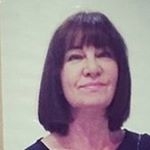 Latest posts by Michelle Topham
(see all)