Although I'm not usually a fan of celebrity fads, the latest one just hitting Twitter is actually quite fun and, of course, awesomely socially responsible. Called the #WakeUpCall, it's a new internet campaign similar to the Ice Bucket Challenge, but this time where celebrities photograph themselves just waking up and then post the photo on Twitter. The money earned (recommended $8 per photo or around 5 quid) is being donated to child right's charity UNICEF.
The #WakeUpCall was started by U.K. journalist Jemima Kahn in an attempt to call attention to the plight of child refugees in Syria.
Khan told the Daily Mail,
'The main aim is to raise lots of money fast for Syrian refugee children. I went to meet Syrian refugees in the camps in Jordan last week and the situation is desperate.

'I am hosting a fundraising dinner to raise money for UNICEF's campaign for Syrian refugees at the end of October for Halloween but this is an emergency."
Celebrities who have joined the #WakeUpCall campaign include some of my favorites (with suitably cool photos to match – see below) – Stephen Fry, Vivienne Westwood, Natalie Imbruglia (wish I woke up looking like that, and God, I love that feather tattoo!) and Hugh Grant.
#WAKEUPCALL Text SYRIA to 70007 (to give £5) or http://t.co/xGAxIU755i (I warn you – look away) pic.twitter.com/DoGvA65s1s

— Stephen Fry (@stephenfry) October 6, 2014
#WAKEUPCALL Text SYRIA to 70007 (& donate £5). Find out who Vivienne has nominated next: http://t.co/9D3s1V1Lst pic.twitter.com/dOgtfUc0QV

— Vivienne Westwood (@FollowWestwood) October 10, 2014
#wakeupcall text SYRIA to 70007 http://t.co/VAik2g2QKU to donate £5 I nominate @davidwalliams @jimmycarr @RubyRose pic.twitter.com/Ik6URUNrYC

— natalie imbruglia (@natimbruglia) October 8, 2014
#WAKEUPCALL I nominate @JohnCleese, @KP24, @JohnBishop. pic.twitter.com/pickqjLFhF

— Hugh Grant (@HackedOffHugh) October 7, 2014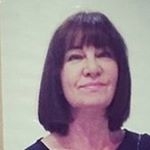 Latest posts by Michelle Topham
(see all)