The latest gorgeous The Matchmakers stills feature Cho Yi Hyun as Jung Soon Deok
The first stills have been released for the upcoming historical comedy drama The Matchmakers starring Rowoon and Cho Yi Hyun and, as always when it comes to Korean historical dramas, I am always blown away by the immense attention to detail and to how beautiful so many of the leading Korean actors look when wearing traditional dress.
Case in point, the three new The Matchmakers stills featuring female lead Cho Yi Hyun wearing traditional Korean hanbok are stunning with their vibrant colors, and Cho Yi Hyun's gorgeous  be-ribboned gache wig and brightly colored make-up.
Of course, like just about all Korean historical dramas, the costume designers have paid close attention to the clothing styles during the Joseon era of Korea's history, so that what the actors wear is appropriate for the time.
Add in the beautiful cinematography just about every Korean historical drama features as the norm, and it is no wonder that me, someone who is not usually that interested in historical TV series and films, am now just more than a little addicted to those coming out of Korea.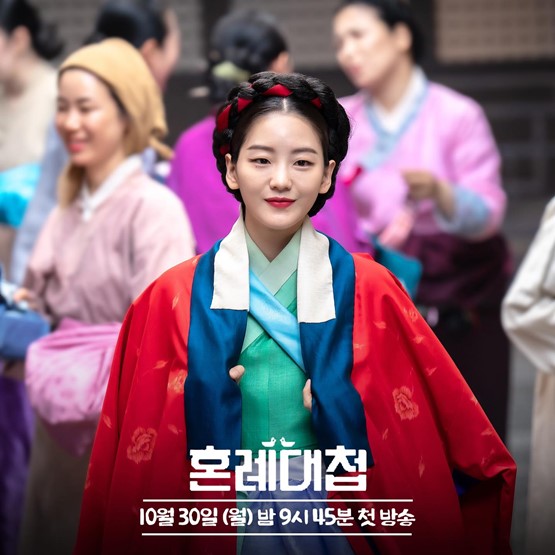 (Quick tips on what to watch if you too are becoming a Korean historical drama buff like me — Song of the Bandits (amazing action scenes, superb performances), My Dearest (stunning cinematography, phenomenal acting), Alchemy of Souls (everything about this one is perfect) and Mr. Queen (exceptional in every respect, and very very funny).
And, of course, don't forget the other wonderful historical drama starring Rowoon — The King's Affection).
What is The Matchmakers?
As for The Matchmakers, the upcoming Korean drama stars the aforementioned Rowoon and Cho Yi Hyun.
The two actors play Shim Jung Woo and Jung Soon Deok, a widower and a widow who join forces to become "matchmakers" in an attempt to successfully marry off the country's older men and women who are struggling to find a suitable partner.
Both are also high-profile people and so, due to that, have their own problems when it comes to being able to remarry.
The Matchmakers will premiere on October 30th at 21:45 p.m. (KST) on KBS2, and will be available for streaming for international viewers via Viki.
If you like a good historical drama, don't miss it, as this one looks like it will be wonderful.
RELATED: Rowoon looks amazing in traditional Korean dress in the upcoming The Matchmakers
I am a Brit-American journalist, former radio DJ at 97X WOXY, and Founder/CEO of Leo Sigh. I'm also obsessed with music, anime, manga, and K-dramas. Help!