I heard about French group Christine and the Queens only a couple of weeks ago when a reader forwarded me a link to their single 'Saint Claude'. And I loved it. So much so I was planning on playing it as one of my Repeat Rotation Videos soon.
Then the amazing Lorde mentioned she loved Christine and the Queens' song 'Saint Claude' in a Billboard magazine interview this week, and it reminded me I needed to get on that.
So, here it is. Christine and the Queens singing 'Saint Claude' for today's Repeat Rotation Video. As Lorde says, the video is simple yet striking, and Christine's voice is amazing.
Well, I say 'Christine'. The lead singer is actually a French singer songwriter called Heloïse Letissier who used to sing solo. Then she discovered a group of drag queens who were musicians, and loved what they were doing. So, she asked them to join her as official backing singers and, voila, (well, you have to say that, she's French) – Christine and the Queens was born.
Since then, they have done very well, winning a couple of Best Newcomer awards in France, as well as seeing 'Saint Claude' go to number 11 in the French charts, and having their first album 'Chaleur humaine' hit the number 6 spot on the album charts when it was released earlier in the year.
Alors, (there's that French again), here is Christine and the Queens with 'Saint Claude'. Watch the video first as it's cool before you follow my usual Repeat Rotation Video instructions – play it loud, with headphones on and eyes closed. Oh, yeah, and dance if you feel like it. I do as I love the way she dances.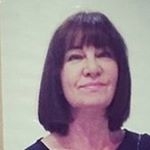 Latest posts by Michelle Topham
(see all)