(*Note, I haven't updated this list in several months as there are just too many Conchita Wurst articles on Leo Sigh now (more than 600 articles at last count).
That means the best way to find all the Conchita Wurst articles on Leo Sigh is to go to this link — you will find EVERY article about Conchita listed there).
Conchita Wurst is one of a just a handful of celebrities I cover as much as I can on Leo Sigh. That's because I think she's talented, interesting, funny, smart and unique and, oh yes, she's trying to make a positive difference in the world.
It's also why I have decided to have a main directory page on Leo Sigh for everything I've written about Conchita Wurst and everything you ever wanted to know about her, so it's easier to find any information you might be looking for.
Conchita Wurst's concert dates, her songs, her latest videos, news about what she's doing next, fashion shows she's in and designers she may be wearing — everything listed on one page with links as to where to find them, and divided into categories so you're not having to wade through tons of article titles to find the one you're looking for. And, of course, updated daily.
So, here goes……
News About Conchita Wurst (latest news at the top of the section)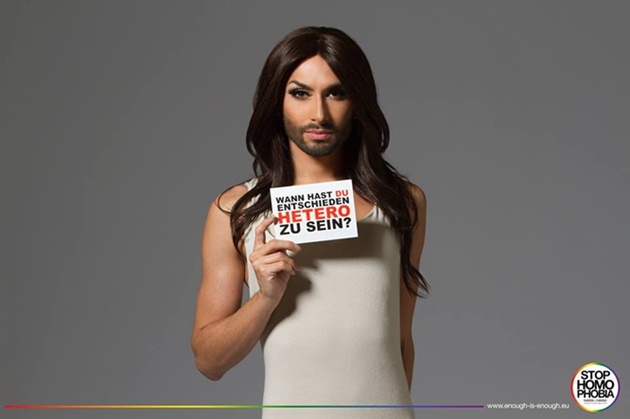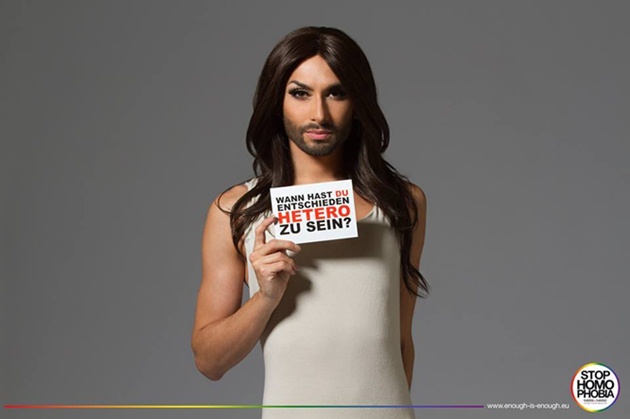 Conchita at the Eiffel Tower – nowhere special. Just the Eiffel Tower.
Conchita to perform for a week at Crazy Horse Paris
Eurovision Gala Night is going to be a Conchita night – Yay!
Conchita to sing in Bad Mittendorf – Back to her childhood home
Conchita Wurst singing at Padova Pride Village, Italy – She's finally in Italy. Yay!
Conchita Excited about Vienna Location for ESC – It's her hometown
Conchita will be headlining the Stockholm Schlager After-Party – It's not just Gay Pride events you can hear this diva sing at when Conchita hits town.
It's Manchester Pride for this Eurovision Song Contest winner – Conchita will be performing at northern England's most prestigious Pride event.
Serena Pop Festival, Finland – Yes, she's going to be there.
The lovely Frau Wurst has joined the Stop Homophobia campaign – I told you she was trying to make a difference
She's not doing Big Brother – it's official – Well, we all knew that, but sometimes it has to be pointed out.
Stockholm Pride, July 2014 – She's heading off to Stockholm to headline the Stockholm Pride concert at the end of July. Here are the details you'll need if you plan on attending or……if you just want to drool from afar.
Headlining London Pride – Been there, done that, we loved it. But you can still read the announcement about it again. Then curse God if you didn't get there.
Stonewall Gala Berlin announcement – Announcement of one of her first gay pride events after winning Eurovision. This one in Berlin, Germany.
European Concert Dates in 2014 – If you want to see her in Europe in 2014, these are the dates you'll need to know. We update them as fast as we hear of more performances being announced.
Conchita Wurst wins Eurovision Song Contest 2014 – Yes, this is where it all started. Who knew how big she was going to become?
Live Performances
The girl at Almdudler Trachtenparchenball – Very sexy performance
Conchita Wurst, Weltstar? – Oh, yes
Conchita does soundcheck in Bad Mitterndorf – Photos
Conchita Hits Diva in Italy – This performance is a killer
Conchita's performance at Serena Pop & Rock in Finland – Lovely performance
Conchita singing at Boylesque in Vienna – A beautiful performance
Conchita is back at G-A-Y in London and she's got major attitude
Conchita Wurst sings 'Unchain My Heart' at Landler Kirtag – she absolutely ROCKS this song
Singing 'Rise Like a Phoenix' at Antwerp Gay Pride – she just gets better and better
'Rise Like a Phoenix' at Amsterdam Pride – this closing party performance is pretty damn spectacular
Stockholm Pride performance of 'Rise' – It's amazing how her performance of the now-classic Conchita song just gets better and better with every new version.
Allsang was one of Conchita's most beautiful performances – Want to see the most beautiful venue ever when it comes to La Wurst singing? Then this Allsang TV show in Stockholm, Sweden will have you saying "Wow".
Greece was Conchita's latest stop, with a duet with Anna Vissi – Mykonos Island couldn't have been more beautiful
Rehearsing for her Gugi Games performance – One of the best rehearsals I've seen her do. Her voice is simply stunning.
Second performance at The George during Dublin's gay pride – And boy, does she rock the place and, man, do the fans love her.
Loved this performance at La Fête de la Musique in Paris The dress. Her look. Her attitude. The stage. The song. The venue. Seriously epic.
Awesome performance at Zurich Pride – Nice long performance with a long introduction and an award. In German, but still massively interesting.
Best Song Videos
Top 3 sexiest Conchita Wurst music videos – Marilyn Monroe has nothing on this girl
Top 10 Best Conchita Wurst music videos – Well, my 10 at least
Conchita sings 'That's What I Am' with Russkaja – amazing version of this classic La Wurst song and with a kickass backing group
This 'Unbreakable' video is sad and touching – Don't you just want to hug her?
'That's What I Am' is an amazing song – This version is one of her best performances of it
Some 'That's What I Am' videos are better than others – (Although they're all bloody brilliant). But this is one of my favorites – ever.
Best Conchita performance of Cher's 'Believe' was at the Starnacht am Worthersee in Austria last weekend. Just a stunning performance.
Conchita and The Design World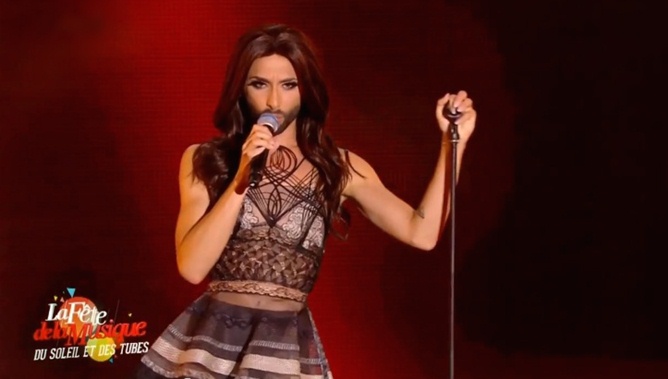 Conchita and Jean Paul Gaultier in 'A Coeur de la Nuit' documentary
Looking beautiful in Akris – Some designer dresses are perfect for her
First photos from Conchita's front row appearance at Bjorn Borg
Will Conchita be on the Bjorn Borg runway in Sweden?
Jean Paul Gaultier in Vienna to film an ARTE documentary with the lovely La Wurst – Did we say JPG loves her more than anyone?
Conchita's catwalk performance with Jean Paul Gaultier is absolutely fabulous. And doesn't he just love her?
More of her on the Jean Paul Gaultier catwalk
First video out of Conchita's debut at Paris Fashion Week with Gaultier
At La Fête de la Musique, and this Gaultier dress is one of the most fabulous she's ever worn. Yes, we know she loves Jean Paul G. And yes, we know she looks amazing in everything she wears from him.
Best Interviews with Conchita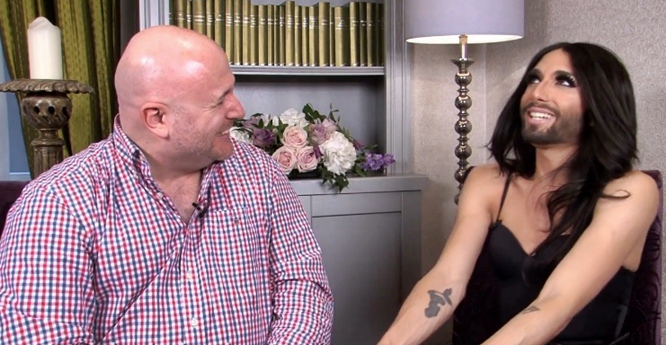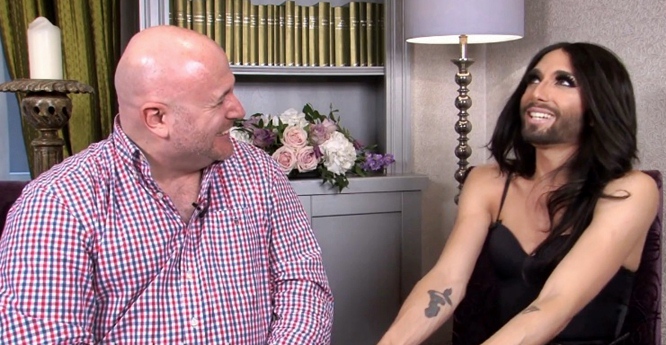 Conchita Wurst in Finland – she knocks this interview out of the ballpark
Pre-Eurovision Interview with Eurovision Radio International – Want to hear what a happy-to-be-doing-what-she's-doing almost-diva sounds like?
Conchita gives good interview – Some of Conchita Wurst's best interviews
Everything changed for her after the Eurovision win – Here's what she says about that
Conchita's most political interview yet – Want to know what she thinks about gay rights and human rights?
Why Gay Pride is important, and what tolerance has to do with it – Conchita gives her opinion about why Gay Pride should be celebrated – even in countries that aren't so open-minded.
She's just so damned charming – Even when reporters are at their most annoying, Conchita still stays polite, friendly and respectful. It's why we all love her so much.
Garrett Mulhall is the best interviewer of this diva ever – Here he is interviewing her in Dublin during her visit for her second performance at The George. And one she promised her Irish fans if she won Eurovision.
One of her numerous interviews during the Madrid Pride week – And yes, she's as charming as she always is.
Conchita Wurst on why you should be able to love whoever you want to love – It's a human right. Come on.
Le Monde interview during her visit to Paris – In Paris for the La Fête de la Musique, she was more than happy to talk about her Eurovision win and what people are saying about it. She also talks about being bullied at school, and what that did to her when she was a teenager.
Conchita on Graham Norton – It's the first time Graham has ever had a Eurovision winner on his show. Shows how much he loves our amazing Ms.W
Awards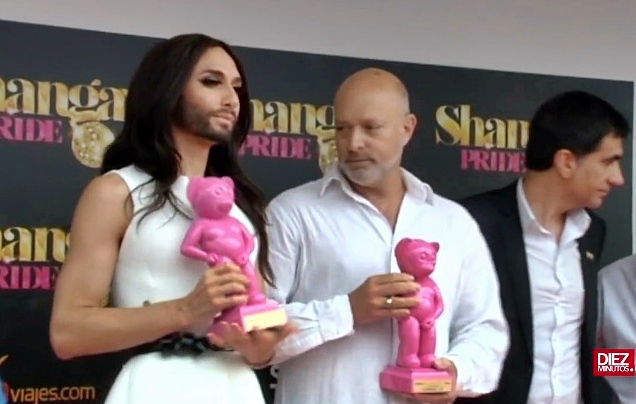 Conchita wins 'Greatest Moment of the Year' at the UK's Attitude Awards – lovely speech too
Conchita wins award at Madrid Pride – And it's pink and cute
Getting the Stonewall Award at Berlin Pride – One of the first awards she's ever been given. And so important for the human rights work she's going to be doing for the rest of her life.
Fun Stuff About Conchita Wurst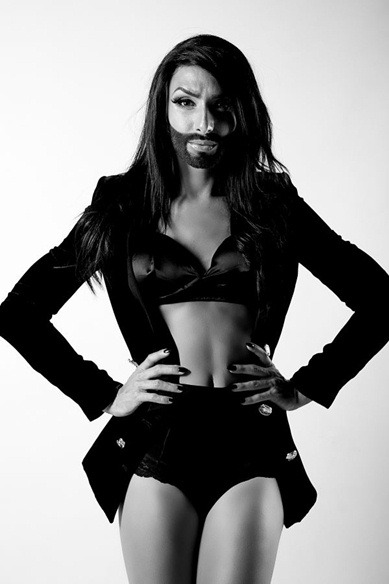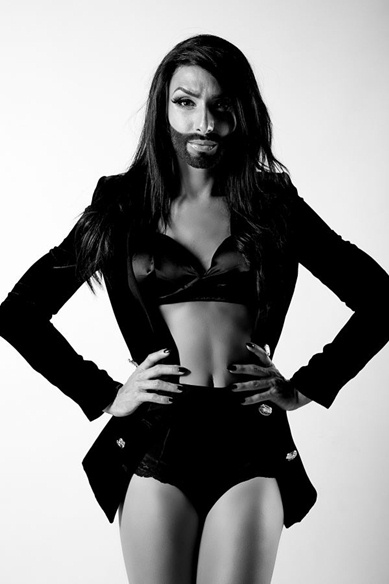 Conchita now knows she's 'sexy' so look what we got – I am loving that Conchita Wurst finally figured out she's sexy, as she's showing that sexiness off in such incredibly cool ways.
Conchita Wurst and why she needs to be 'cool'
Conchita has a new 'Questions and Answers' video series – ask her anything
Conchita Wurst on expectations and dreams
Conchita Wurst is an exceptionally complex person – one of the many reasons I adore her
Conchita Wurst – if you love her have some respect
Conchita Wurst in 'Wild Girls' – and I knew I was always going to love her
Why I write about Conchita Wurst – more than any other celebrity on the planet
Conchita Wurst – so close to being Bassey
Music for Conchita Wurst – Shirley Bassey's 'I Am What I Am'
Conchita is a whole lot more 'girl' than I'll ever be
Conchita Wurst, I know you can dance
Why I will always fight for Conchita Wurst
Conchita voicing Eva in 'Penguins of Madagascar'
This is when your heart breaks
Photos of the diva singing live in Bad Mitterndorf – Well, she is
Protecting Tom – Please don't share every photograph you find
Russia's Intervision Song Contest Cancelled – I'll bet my drag queen against your homophobic Russian politician any day of the week.
Conchita Wurst, You're Taking Over My Life – musings
Conchita Wurst is Crashing My Hard Drive
Conchita helped this Romanian woman 'rise from the ashes' – Another in a series of how she changes lives
Conchita touches lives all over the world as this Swedish woman can attest to
How Conchita changed this American woman's life
How Conchita Wurst changes lives: fans talk about what she means to them
Wesley Snipes is a Conchita fan – we're not the only ones enamoured
Conchita gets her beard kissed by OUTtv journalist – so cute
How fans can help the lovely Ms. Wurst become a major international superstar – She deserves it
Don't ever underestimate Conchita Wurst – She'll succeed in everything she tries
Conchita Wurst's beard is now tattooed on my arm – Are you as big a La Wurst fan as I am?
Do Europeans love Conchita Wurst? – Like you wouldn't believe.
Have you 'liked' Conchita's Facebook page? – It's important for her career.
Napster Fan Awards – Have you voted for Conchita yet? Why not?
Conchita wears Aquazzura Shoes – with her amazing legs, these shoes are fabulous
Looking for the best site for up to date Conchita info? – The Conchita's Wurstgemeinde Facebook page is awesome for the best photographs, videos and new information about what's going on in Conchita's life.
Everything you wanted to know about Conchita Wurst's tattoos – How many tattoos does she have? Where are they and what is their importance to her?
She's on Instagram and rocking it – Known as being one of the best celebrities on Instagram, her photographs are always stylish, cool and beautifully taken. Seeing as how most of them are selfies, she gets the credit too.
Is she the queen of Twitter selfies?– Well you decide.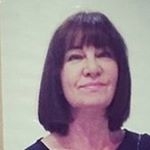 Latest posts by Michelle Topham
(see all)