Can. Not. Breathe. TY 4 featuring me! #fashionpolice @kathygriffin @KellyOsbourne @e_FashionPolice #theunstoppables pic.twitter.com/cpF0uVbDpE

— Conchita Wurst (@ConchitaWurst) February 17, 2015
Life just continues to get better and better for Conchita Wurst who, along with every other amazingly fabulous thing that has happened to her in the last nine months, was just featured on E!'s Fashion Police on Monday night.
Now, if you don't know much about Conchita Wurst, you might be thinking, "Huh? Why would being on Fashion Police be such a big deal?" But for Conchita, it was one of the biggest deals, as she loves, loves, loves the show.
In fact, in January, when Conchita was at the Golden Globes, one of the things she talked about in her LA Press Club interview was Fashion Police. "I'm a huge fan of Fashion Police, and I'm a huge fan of Kathy Griffin. But also very scared". She then went on to say how being featured on the show was her goal for the Golden Globes red carpet. (see video)
Sadly, that goal was not to be for her, as she was ultimately passed over for Fashion Police's review of Golden Globes fashion.
But, one thing I've noticed about Conchita over and over again is that girl seems to lead a charmed life. Because if she doesn't get what she originally wanted, you can bet with every penny you've ever owned, what she eventually does get will be so much better.
And that's just what happened to Conchita and Fashion Police on Monday night. She ended up with an entire segment just to herself, in which she was raved about by almost everyone on the set (Just ignore Giuliana Rancic's comment that Conchita's fabulous JCHOERL dress "could have been better", as she was absolutely wrong).
Kathy Griffin called her "My kind of drag queen", and then went on to enthuse over the way she looks saying "Leave the facial hair. Put on a great dress".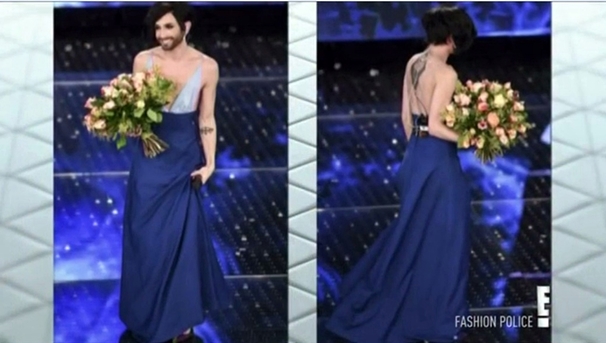 The only thing Kathy was disappointed about? That Conchita's "massive tattoo on her back….it's her mom. And I thought it'd be Madonna. I'm sorry, what kind of drag queen doesn't put Madonna on their back?" (And I can just picture Conchita dying laughing at that statement, because oh, she does love Kathy Griffin).
My favorite comment of the show, though, came from the awesome Kelly Osbourne, who was so overcome with how much she loves, loves, loves Conchita Wurst (yep, I know the feeling, Kelly), she could barely even talk about her.
"Conchita. Conchita. Conchita. She's my hero. I love her so much, it's ridiculous." At which point, Kathy Griffin jumped in to ask "Are you going to cry?"
All in all, Conchita's first appearance on Fashion Police could not have gone better. And, I say 'first' as, let's face it, with how fabulous that girl always looks, there will obviously be many many more. Meanwhile, this one is just one more step on her way to conquering America, and to the mega-stardom she has always wanted.
Congratulations, love. Very well deserved.
Meanwhile, you can watch Conchita's feature on Fashion Police in the video below, as long as it remains up on YouTube.
http://youtu.be/M9Ww9vTFPPY?t=18m20s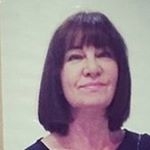 Latest posts by Michelle Topham
(see all)