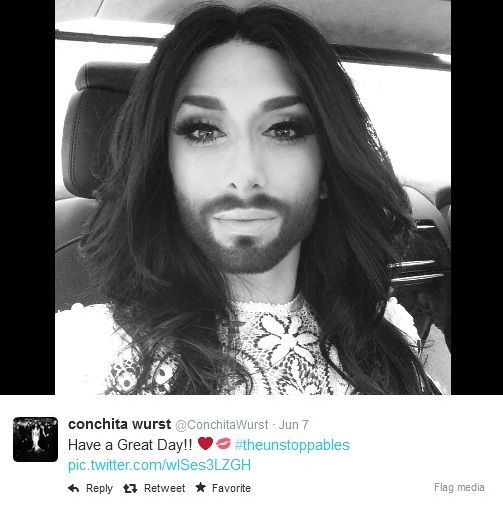 Just about my biggest girl crush right now is the lovely Austrian singer Conchita Wurst. Winner of the 2014 Eurovision Song Contest, Wurst (aka Tom Neuwirth) is a wonderfully glamorous 'bearded lady' who just so happens to have an amazing voice, a delightful personality, a wicked sense of humour and a kind heart.
Not content to just be a phenomenal singer, though, Conchita Wurst is also quite the Twitter fan, particularly when it comes to selfies.
In fact, it could be accurate to say not only is Conchita Wurst the 'Queen of Europe' (thus named after her Eurovision Song Contest win last month), but she's also become the Queen of the Twitter selfie as well.
That's because few other female singers who tweet selfies on Twitter are able to get to the level of sheer artistry and stunning beauty Conchita Wurst manages when she takes her photographs. Even if, half the time, she's just sitting in her car.
You don't believe me? Check out a couple of other Conchita Wurst selfies on Twitter below.
Me, in love? No. Absolutely not.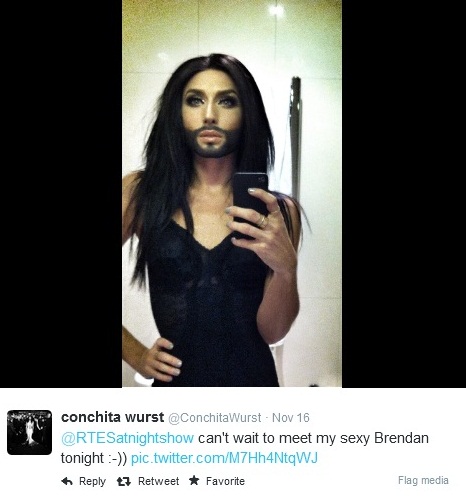 I Love Summer, Except while sitting in the Car 🙂 pic.twitter.com/TSU3IUUdqE

— conchita wurst (@ConchitaWurst) June 13, 2013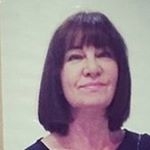 Latest posts by Michelle Topham
(see all)