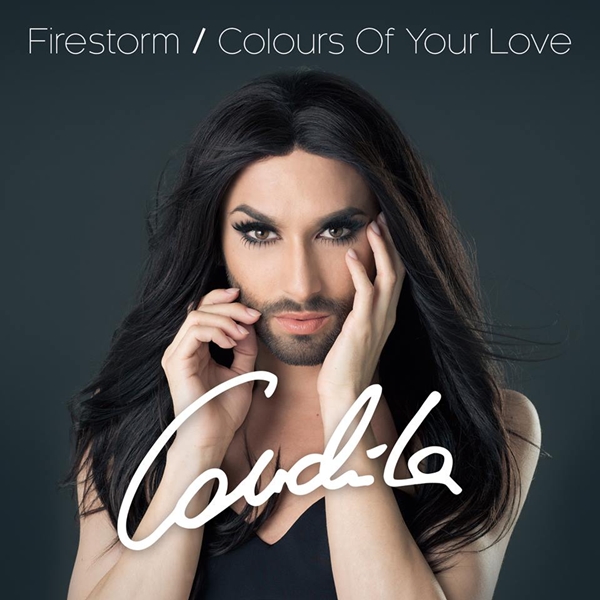 It's looking more and more like we may be getting a new music video for at least one, if not both, of Conchita Wurst's new singles in the next few weeks. At least, if La Wurst releasing lyrics videos for both 'Firestorm' and 'Colours of Your Love' on her VEVO channel today is anything to go by (see both videos below).
Her new double single 'Firestorm/Colours of Your Love' has also officially been released today, and it's already shown up on both Spotify and Deezer, with 'Firestorm' now in its remastered form.
'Firestorm', of course, is that quintessential club track Conchita probably always wanted to have, and I'm sure an official video for it would go down a treat with all the club-goers.
Besides, it's a great dance track on record and, after a shaky debut live performance of the song at Life Ball in Vienna back in May, Conchita seems to have rehearsed the hell out of the song since then, because she has been kicking some major ass with it lately. So, yes, I'd like to see a music video for it. And then…I'd like to see it live.
As for 'Colours of Your Love', this is a bit of an odd track. One I initially liked, then spent a month skipping over every time I played her album, and now I'm back to enjoying listening to it.
I would love to see a video of this one, as the more you listen to it, the more you realize it's such a bizarre song — starting out a slow and mellow piano piece, then it becomes a hyper-active electronic dance track right out of Bollywood for the 10 seconds it takes to get through the chorus, and then it's abruptly back to mellow.
If 'Colours of Your Love' is indeed one of the music videos she releases, it will be interesting to see how she handles that. (Watch the lyrics video for 'Colours of Your Love' below to see what I mean).
And while these two new lyrics videos are nice to have, I'm looking forward to any music video we get, and I'm always happy when she releases another single, I'm still left wishing we get another double single sometime in the future.
'Pure' and 'Other Side Of Me' — the two best songs on her debut album. Bar none. Because, when it comes to videos, those are the two I want to see.
Meanwhile, however, while we're waiting to see if my dreams come true, head off and pick up Conchita Wurst's new double-single of 'Firestorm' and 'Colours Of Your Love' on iTunes.
Both tracks are great and, speaking of dreams, those two may very well be part of yours.
I am a Brit-American journalist, former radio DJ at 97X WOXY, and Founder/CEO of Leo Sigh. I'm also obsessed with music, anime, manga, and K-dramas. Help!