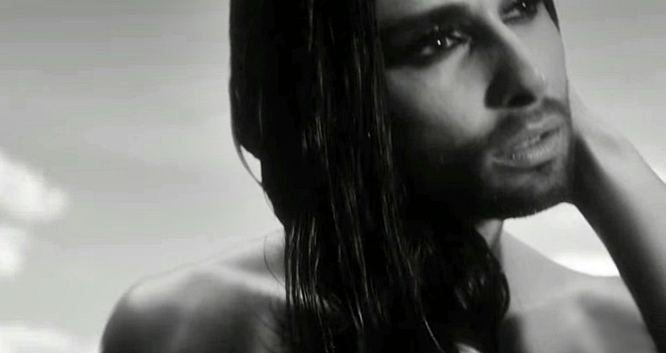 Conchita Wurst releases official 'You Are Unstoppable' music video
An hour after Conchita Wurst announced her upcoming trip to Australia, the official music video for her latest single 'You Are Unstoppable' went up on her VEVO channel. It's a video that is, to some extent, designed to shock but also a video that, from the screenshots and the mini clips she's been posting for the last few days, I'd pretty much guessed was coming.
But what's intriguing about Conchita Wurst's 'You Are Unstoppable' video isn't just that one slightly shocking thing, which I'll get to in a minute. It's more that, when you look closely at the story that's being told, it's a far simpler idea than her previous video 'Heroes'. Yet one that is executed to such perfection, it's just as beautiful.
The story
The 'You Are Unstoppable' video starts out with a dark shot of Conchita, hands in pockets, looking at the ground. The lyrics "You don't know me, I don't know you. That's what we tell ourselves inside of our little heads. We could never love again" play over her. And it feels kind of sad.
The camera then moves to the figure of a woman at the very bottom of the screen, curled up on the floor and surrounded by darkness, except for the weak circle of light she's lying in. She wakes up, elongates her body, and then slowly she begins to move, and to try to stand. It's then the light changes, and you realize she's underwater at the bottom of the ocean, fighting to push herself upwards yet continually falling back.
During this 'dance', the camera switches backwards and forwards from the woman to Conchita, who is now singing the more joyous lines 'Sometimes you just gotta leap – yeah. Jump out and feel the breeze – yeah, You're stronger than you believe you are.You are. Sometimes it's just gonna hurt – yeah. But you gotta live and learn – yeah. You're stronger than you believe you are. You are unstoppable."
The woman's dance finally concludes with her finding the courage to push herself upwards but, when she gets to the surface, it's not her but Conchita who breaks through the water to breathe the fresh air.
Resilience and hope
And while it's a moment of resilience and hope, to me, the resilience and hope are less about the woman and more about Conchita herself. Because here, although Conchita is playing a similar character as she did in 'Heroes' — the benevolent goddess radiating love to those who are struggling and in pain — the 'You Are Unstoppable' Conchita is softer, far more vulnerable and in pain herself.
Which embodies just what I have always thought about 'You Are Unstoppable'. That while it's a song Conchita gave to her fans, and she wants them to know they are unstoppable, she's never really been singing to them. But always singing to herself.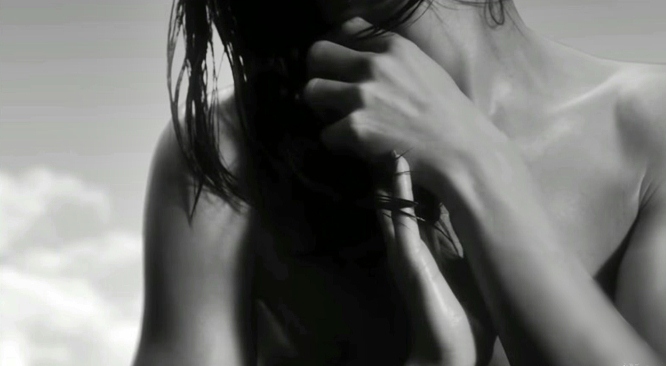 The final scenes
The final scenes of 'You Are Unstoppable' are the 'shocking' bit, as Conchita sheds most of her clothes and, with long wet hair plastered against a naked chest, she delivers the song's final message. You're stronger than you believe. You are unstoppable.
And delivers it in a way that signifies a rebirth. After all, she might be naked, but she's ready to conquer the world.
Final thoughts
And, yes, being me, the one who analyzes Conchita Wurst far more than is probably good for me, I do have final thoughts.
The video is stunning. It's simple, beautifully crafted and photographed, and it works on every level.
The strategically placed hair and arms, and skillful editing throughout the last few scenes were masterful. In perfect symmetry with the story and the music. Yet not a nipple in sight.
And while she might be the skinniest girl you've ever seen, she has the most perfect body. And God, did you get a look at that gorgeous skin?
As for the black and white nature of the video, it's the second one she's now done. For me, it's the perfect artistic medium for her, and I think all her videos should be this way. (And we all know exactly how much Conchita Wurst listens to my preferences, which means I can absolutely guarantee you her next one will be in colour).
And, as a final note, the clothing Conchita is wearing is by the ever fabulous JCHOERL.
Watch Conchita Wurst's 'You Are Unstoppable' music video below. It's perfect.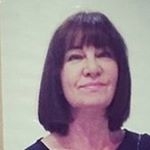 Latest posts by Michelle Topham
(see all)