Eurovision Song Contest winner Conchita Wurst is famous first and foremost for her beard. A millimeter after that, she's also known for her incredible voice, and her ability to deliver a spectacular live performance.
But, on the heels of these already quite astounding feats, Conchita Wurst is also now lauded for her impeccable style.
A style that, of course, Cochita herself is ultimately responsible for, as she is the one who has final approval on everything she wears. But a style that is predominantly created by stylist Thomas Reinberger, the man who is Head of Dressing for Conchita Wurst.
In recent weeks, Reinberger has come more to the forefront when it comes to Conchita's outfits, as he's opened up his formerly private Instagram account for everyone to see. And what's already in there, and the new photographs of Conchita and her clothes he's uploading every day now, are really lovely.
Because whether he's showing off Conchita in her latest Jean Paul Gaultier dress or JCHOERL gown, showcasing a pair of gorgeous Sergio Rossi shoes, or just giving us a view of La Wurst's extremely fine ass (see treadmill photo below), Reinberger has a beautiful eye.
A beautiful eye for a great photograph and, of course, for creating the perfect outfit for Conchita for every live performance, TV interview, cover shoot and fan meet and greet she does.
In fact, out of the probably couple of hundred outfits she's worn in the last year and a bit, there have only been a handful I haven't liked, (and, no, that latex outfit she wore at Cologne Pride earlier in the month, you know, the one where she stood on stage and dripped rivulets of sweat and lube — well, it wasn't one of them — I loved that).
So, out of let's say 200 outfits and me being one of the pickiest people on the planet when it comes to style (other people's not mine, I just throw something on), and I haven't particularly liked maybe 6 of them. Which means, from me, those are extremely high numbers in his favor.
And this is where it gets interesting about Thomas Reinberger, and which proves just how good he is at what he does.
Because while he's styling Conchita to look chic, elegant and all girl, he's also creating looks for her that are edgy and sometimes even quite fetish.
And, while he does succeed in making her look all gorgeous girl all the time, he also has a knack of doing it in a way that also softly highlights the male in her. Not for long, just for a second or two, but enough time for you to look away and then look back — not quite sure what you've seen.
And I love that.
As for Thomas Reinberger and his Instagram account, it's my new favorite thing. Because it not only gives you a peek into what it takes to dress Conchita Wurst in the extravagant and breathtaking way she is always dressed, it also tells you a little bit about him.
And, for me, just from looking at the photos he lovingly creates and edits, I know he's someone I'd like.
Because I like men who are creative, who have big personalities, who have a great sense of humor and who are kind — and, from his photographs and from his tags, I know that's him. I'm also quite partial to men with beards and tattoos, and his beard is rocking and his tats are cool.
And, of course, I like men who love Conchita Wurst. And Thomas Reinberger? He certainly does that. Just read the tags he puts on his photos and you'll see.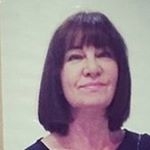 Latest posts by Michelle Topham
(see all)