If you saw Dario Argento's 1977 horror film Suspiria, then you know how creepy it is. It may, however, pale in comparison to the upcoming remake of Suspiria, which just got its first trailer today.
Because the newest version of the Italian horror film not only has a creepy AF trailer, but it also features a stellar cast — Tilda Swinton, Lutz Ebersdorf, Chloe Moretz, Mia Goth, Renée Soutendijk, Jessica Harper, Sylvie Testud, and Angela Winkler –and a stunning soundtrack by Radiohead's Thom Yorke. Stunning if the music we just heard on the trailer today is anything to go by, that is.
Interestingly too, Jessica Harper played Suzy Bannion, the lead in the original film, although obviously she is playing a different role in the remake.
The 2018 remake of Suspiria was directed by Luca Guadagnino, and is set to be released in a handful of theaters by Amazon Studios in November to test out the waters before, hopefully, being released in more.
Watch the creep Suspiria trailer below.  And, if you are a horror film fan, doesn't that seem like it should be on at the top of your list for films to see this year?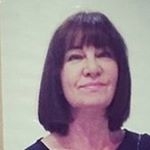 Latest posts by Michelle Topham
(see all)