Designer Demna Gvasalia has a new collection out for Balenciaga — Fall 2016. His first with the fashion house, and it is gorgeous. One of my favorites of Paris Fashion Week if the truth be told.
And on a short Vogue video, Gvasalia talked about how he came to design the collection the way he did.
"I went to the archives first, so I had a look at everything. I was trying to understand Cristóbal's method. How he worked, because there was this relation between the garment and the body, how they flattered the woman. But at that time, which would be retro today. So my challenge was to find a way of doing it now".
"It was the posture and the attitude, and Cristóbal's way of working with the body I found interesting," said Gvasalia
The way Demna Gvasalia figured out how to tailor the clothes as true Balenciaga pieces would usually be tailored, while making the clothing perfectly young and fresh and unique is really quite lovely.
Definitely street style and far more 'trendy' than Balenciaga normally does, but with distinct Balenciaga-style tailoring that is superb, and with an amazing mix of more business-like tweeds and knits, but sometimes with a full skirt at the front, and then soft, floating and truly gorgeous floral print dresses but also ski pants and massive brightly-colored puffer jackets.
A collection that is truly unique for the amazing difference in styles within it, but all working together so beautifully.
You can find out more about Demna Gvasalia's Balenciaga ready-to-wear collection for Fall 2016 at Vogue, and see the collection in all its glory in the video below. Stunning. Simply stunning.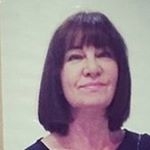 Latest posts by Michelle Topham
(see all)