Whether you haven't yet seen the massively successful anime film Demon Slayer: Mugen Train, or have but are desperate to see it again, mark your calendar for Tuesday, June 22nd.
That is when Demon Slayer: Mugen Train will begin streaming in the U.S., Canada, Australia and New Zealand via Funimation.
The film will be available in both subbed and dubbed versions via various apps, as well as on the Funimation website.
It hasn't been announced yet, though, whether users who watch the free version of Funimation with ads will be able to watch Demon Slayer: Mugen Train, or if it will initially be an exclusive for premium and premium plus users only.
If you prefer to own a movie instead of just stream it, the film will also be available via VOD on the same day.
What is Demon Slayer: Mugen Train?
The 117-minute movie follows on from the end of series one of Demon Slayer: Kimetsu no Yaiba.
The plot goes something like this:
Falling forever into an endless dream…

Tanjiro and the group have completed their rehabilitation training at the Butterfly Mansion, and arrive to their next mission on the Mugen Train, where over 40 people have disappeared in a very short period of time.

Tanjiro and Nezuko, along with Zenitsu and Inosuke, join one of the most powerful swordsmen within the Demon Slayer Corps, Flame Hashira Kyojuro Rengoku, to face the demon aboard the Mugen Train on track to despair.
The film was directed by Haruo Sotozaki, with screenplay by ufotable and character design by Akira Matsushima. It is based on an original story by mangaka Koyoharu Gotoge.
Anime production is also by ufotable.
Learn more about Demon Slayer: Mugen Train at Funimation and, of course, watch the original Demon Slayer series on Crunchyroll.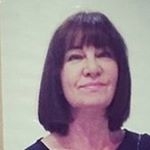 Latest posts by Michelle Topham
(see all)