Actress, gamer, YouTube personality extraordinaire and all around ultra-cool woman Felicia Day was at Santa Monica Pier this week doing a photoshoot for the 2014 Ford Fusion Energi, and she looks amazing. That's because Felicia got full body paint for her Ford Fusion Energi photos. How awesome is that?
According to a photo on Felicia's Instagram account, having full body paint is something she has always wanted to do. So she must have been thrilled to get this opportunity. I know I would have been.
The photo she has currently uploaded is of just her head and shoulders being painted blue (a beautiful look, might I add), with the promise of another photo upload of the finished look later.
Meanwhile, Ford themselves has a photo of Felicia at the same shoot with a very muddy Ford Fusion Energi on their Facebook page. Check it out.
And, before I leave this, can I just say if you haven't checked out Felicia's YouTube channel yet, you really really must.
Called 'Geek and Sundry', it's been one of my favorite channels since it started as it not only includes the incredibly funny, and beautifully written, web series 'The Guild', but also has new web series up all the time, as well as some of the best gaming content and other geeky stuff online. If you like it, remember to subscribe.
Yep. Felicia Day. She's one of my girl crushes. Even when she isn't painted blue. Look at her. Can't help it.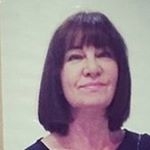 Latest posts by Michelle Topham
(see all)