There's a video just hit YouTube of Felicity Huffman on 'The Ellen DeGeneres Show' this week and, while it's all about Huffman talking about her kids and how much she actually likes them now that they are 13 and 15 years old, something else grabbed my attention with this one.
Because, oh my God, have you seen Felicity Huffman's hair? And can I just say, wow, she suits it. A lot.
Huffman's hair is just past shoulder length, wavy, in beautiful condition, cut in an almost Farrah Fawcett style (circa 1970s Charlie's Angels), and dark. And she looks simply gorgeous.
Check out Felicity Huffman's dark hair below. She looks so different, you would probably find it difficult to recognize her if you saw her on the street.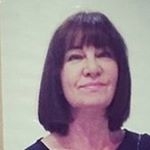 Latest posts by Michelle Topham
(see all)