I am not one to judge when it comes to fans having something about their favorite artist tattooed somewhere on their body. After all, I have Conchita Wurst's beard tattooed on my arm.
Apparently, though, British actress Felicity Jones may not be that huge of a fan of having herself as Jyn Erso tattooed on someone's body. At least if her interview this week on The Graham Norton Show has anything to do with how she feels.
Because she was noticeably embarrassed, or at least very giggly, about a fan having a Felicity Jones as Jyn Erso tattoo inked onto his calf. And slightly worried about what will happen to the tattoo when the hair on the man's calf starts growing back.
"I'm gonna be a bearded lady", Jones laughed.
But that is better than what the rest of the guests thought when Felicity Jones talked about a fan having her as a Star Wars character tattooed onto his body. Because they weren't thinking about a tattoo on a leg but, instead, another body part you probably couldn't show on TV.
Watch Felicity Jones on The Graham Norton Show last night talking about fans and tattoos in the video below. It's cute.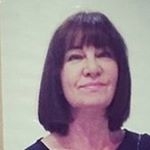 Latest posts by Michelle Topham
(see all)