Saara Aalto was announced as Finland's representative for the Eurovision Song Contest 2018 a few months ago. This weekend, Finland chose the song Aalto will sing at the contest in Lisbon.
The country had three songs to choose from — 'Domino', 'Queens' and 'Monsters'. Three pretty bland songs, honestly, with their only saving grace that Saara Aalto would be singing them as her incredible voice can at least make a song standout.
But Finland got to work last night, along with various international juries around Europe and, after Aalto sang all three songs live, 'Monsters' came out the winner. The song received 183 points with votes from both the juries and the Finnish public.
Now Saara Aalto has to do a lot more with this song than it got last night.
Because, sure, her voice was decent but Good Christ I don't know what they were thinking with those costumes and that staging. In fact there was so much going on on the stage, it was hard to concentrate on 'Monsters' for all those weird costumes and constant movement.
The staging for 'Monsters' started out with Aalto standing in a black box wearing a black hooded robe and scattering feathers from her wrists. It continued with her emerging from the box and awkwardly taking off the hood and robe to reveal a mini skirt outfit and black leggings decorated with fluorescent zig-zags.
And this is where I always think All Caps are in order because — NEVER EVER DO A COSTUME CHANGE ON STAGE, IT'S JUST DISTRACTING AND HAS THE POTENTIAL TO GO HORRIBLY WRONG.
We then got another couple of minutes of gyrations, Aalto and backing dancers dancing, men appearing wearing fluffy feathered wings (why?), Aalto being carried above their heads lying on her back as she sang and then finally being deposited on a platform. The lights then dimmed so we could see the fluorescent zig-zags on her clothing as she danced again.
Sadly, they weren't finished there, because pink and green fluorescent flags appeared next and were waved around a bit before being thrown away, then Aalto was picked up again and deposited back at the front of the stage.
Yep, all that in just three minutes with Saara Aalto looking and sounding like she was barely keeping up.
In other words, Finland, the song isn't particularly good but Aalto can carry off anything. So please, give her simple staging, a stunning backdrop and she could do wonders with it.
Stick with things the way they were last night, however, and the only time we will see Saara at Eurovision 2018 is on May 8th during her semi-final, with May 12th's grand final completely lost to her.
Related: Watch Saara Aalto sing Sia's 'Chandelier' during the X-Factor semi-final — she's amazing!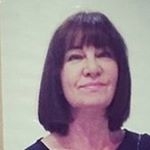 Latest posts by Michelle Topham
(see all)