The appropriately titled "first death" by TK from Ling tosite sigure was the Chainsaw Man Episode 8 ending theme song released yesterday.
A song that, along with its devastatingly sad ending animation, portrays perfectly the way we all now feel about Himeno's death.
The first death of the main Devil Hunters group the first one we care about, and one done perfectly as Himeno asks her devil Ghost to "Save Aki" and, in return, she will give him all of her.
She then tells Aki, "Don't die on me. Because then, when I die, you can cry for me", as Aki is the only Devil Hunter that, no matter how many times one of the rookies he was looking after died, still cries for their death.
Chainsaw Man Episode 8 then ends with Aki's life still in the balance, the future of the Devil Hunters uncertain, and Himeno dead, with the only thing remaining the clothing she was wearing, her eyepatch and her blood.
Advertising
The Chainsaw Man Episode 8 ending animation segment is also phenomenally done as we see the cigarettes Himeno persuaded Aki to begin smoking and the two then smoking together, the never-ending fields of the Devil Hunter dead as Himeno mourns their loss, followed by scenes of Aki and Himeno saving each other's lives, and ending with a bouquet of flowers and a pack of cigarettes left for Himeno.
Just as Himeno used to leave flowers for other Devil Hunters who have died.
"first death" by TK from Ling tosite sigure is also a superb song for Himeno's death, as TK's signature falsetto and high-pitched almost-screams express the way we all now feel — utterly broken.
Listen to "first death" by TK from Ling tosite sigure in that stunning Chainsaw Man Episode 8 ending animation.
You can also hear the song in full on the Spotify widget below.
And, by the way, can I just say all of Chainsaw Man Episode 8 was pretty much the zenith of animation.
From those beautifully animated opening scenes of a drunk and staggering Himeno to the shot of Denji lying on the bed partly obscured by the fan blade, to the Devil Hunters being picked off one by one, to those gorgeously grotesque fight scenes.
Perfection, and scenes I will now watch again and again and again and again.
I mean, hell, we all know MAPPA releases some of the best anime ever created but, Good God, they outdid themselves with this.
RELATED: Chainsaw Man ED #7 is awesome and that animated ending with the rainbow puke kiss!!!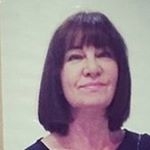 Latest posts by Michelle Topham
(see all)