Future Islands performing 'Seasons (Waiting on You)' on Letterman is a fitting Repeat Rotation Video — if you like genius that is
For today's Repeat Rotation Video, I am going back to one of the most amazing performances David Letterman has ever had on his Late Show. Really. Ever.
That performance is synthpop band Future Islands singing 'Seasons (Waiting On You)'. The performance took place back in early March, 2014, it was the band's first TV gig and it shocked both the band and Letterman when the video of it went viral online, people either loved or hated it that much.
Future Islands is a synth pop band from Baltimore, led by lead singer Samuel T. Herring, known for his guttural vocals, chest pounding so hard you can hear it above the music, and his strange but oh so very cool dancing.
Things which, along with his amazing stage presence, and the band's soul-grabbing music, help rocket this band into the genius realm.
And, of course, create these amazing live performances they do.
Amazing performances like the Letterman gig where, reportedly, some people were so furious at Herring's dancing he got a fair bit of online abuse.
Abuse he said a long time later that really upset him.
Watch Future Islands on Late Show with David Letterman below and then explain to me, what the hell is wrong with someone that cannot feel the authenticity of that incredibly raw emotion coming through that song, or see just how phenomenally talented Samuel T. Herring is?
And really what the hell is wrong with someone that thinks hurling abuse at him online because of that is even remotely okay?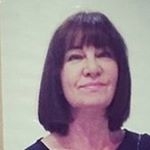 Latest posts by Michelle Topham
(see all)