Ganbare Douki-chan, Season 1, Episode 1 ""Due to a mix-up at the hotel, two coworkers end up sharing a room on a business trip"
I love a good anime short. Especially if something in an episode makes me laugh, if the art work is lovely, or if I can just watch it and relax.
The first episode of the new anime short Ganbare Douki-chan (Do Your Best, Douki-chan) managed to provide me with all of these things in just six minutes.
Several chuckles, a very pretty art style that makes you feel relaxed it's just so pastel-y and hazy, and, on top of that, a main character — Douki-chan — who has quite a bit more to her than you might first suspect.
Almost the entire first episode of Ganbare Douki-chan takes place in a hotel room, where Douki-chan and her co-worker Douki-kun suddenly find themselves sharing a room after there has been a mix up with the booking.
Never mind, though.
As Douki-chan reminds her co-worker, they both have an early meeting in the morning and need their rest.
So…why don't they just share a room and do it with politeness?
Soon, Douki-kun is taking a shower while Douki-chan  pretends to fall asleep on the bed.
What happens after that, though, you will either expect, if you have a devious mind like me, or be surprised by.
Ganbare Douki-chan is an anime short series comprising 12 six-minute episodes, and it follows Douki-chan and two of her co-workers as all three women vie for the same man.
The anime style is lovely, as it is all filmed in subdued colors or hazy views, with main character Douki-chan intermittently drawn as cute and quirky, or seductive and beautiful.
Douki-kun, on the other hand is only seen from the end of his nose down, or with a blank face with a question mark over it.
Even when he is sitting on a chair with a bead of sweat dripping down his face because his co-worker looks so sexy, we still only see him as a blank canvas.
No, Douki-kun is just the bland man in a suit so far, while his co-worker is the one who is going for what she wants. Even if what she wants she probably hasn't thought through properly as, what she gets in the end is a little unexpected.
Of course, I have no idea where this anime short is going, as I haven't read the doujinshi manga series by Yomu the anime short is based on but, if future episodes are as goofy and funny as this, I'm in.
Ganbare Douki-kun is currently airing on Crunchyroll.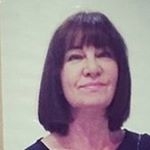 Latest posts by Michelle Topham
(see all)