Gwen Stefani has been promoting her latest project this week – being a new judge on NBC's The Voice.  Along with Pharrell Williams, she's joined current judges Blake Shelton and Adam Levine to check out Season 7's new talent – and she's already uploaded a photograph to Instagram proving it. Sounds and looks like fun to me.
NBC's The Voice also got into the Instagram act themselves, publishing a cool photo of all four of the judges together and with Stefani holding the red microphone.
All I could think when looking at The Voice photograph was can you believe Gwen Stefani is already 44? She doesn't look any older than she did when she appeared on the music scene in the mid 1990s with her band No Doubt. And, of course, she's still as hot.
While filming may already have started on The Voice Season 7, don't expect to see Gwen Stefani on it, or the show itself, until the first episode on September 22nd. Until then, just keep checking Gwen's Instagram account for updates.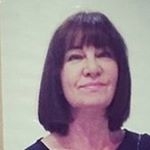 Latest posts by Michelle Topham
(see all)