How to dress like Bella Hadid with thrift shop clothes 
Have you always wanted to dress like Bella Hadid, but know that's probably never going to happen? Not unless you suddenly inherit a few hundred thousand dollars?
If so, you might want to watch this video by Greek YouTuber Kristen Leo, as she shows you how to dress like Bella Hadid with thrift shop clothes, and with very little money.
Kristen's video is called 'Thrift The Look' and it's the first in a series of videos where she looks at the clothes specific celebrities wear, and then tries to recreate the look by heading to her local thrift shops to see what she can find.
Because, as she explains in her video not only can you find incredibly cool clothes in thrift shops that make you look like a million bucks, but "It's always great to give old clothes a new life, recycled fashion is obviously more eco-friendly, and not supporting fast fashion brands and thrifting instead is way better".
(And yes, I agree with her).
With her how to dress like Bella Hadid video, Kristen chose two casual and sporty looks. Both pretty similar to each other but, because of that, it allowed her to buy a jacket that worked with both of them.
Thus, mixing and matching and saving even more money that way.
The first Bella Hadid look she chose was white pants, a white sports bra and an over-sized white bomber jacket, which Hadid also wore with a couple of thin gold chains around her neck.
The second was an outfit Hadid wore that was just as simple — black leggings, a black sports bra, a casual jacket and a baseball hat — and, in its simplicity, very stylish.
Each look included running shoes.
So what did Kristen find while thrifting in Athens, Greece that looked almost exactly like Bella Hadid's outfits, and how much did she spend?
Watch the video for details of each item of clothing.
But, suffice it to say, Kristen Leo managed to look as stylish and beautiful as Bella Hadid in both outfits for only 17.50 euros for the first outfit (white sports bra, white pants and a Nike jacket) and, for the second (black leggings, a black sports bra, a baby blue sports visor and the same Nike jacket) only 16.50 euros (technically 26.50 euros if you include the Nike jacket, but that cost was already included in the first outfit).
In other words, Kristen Leo managed to dress like Bella Hadid, and look just as cool and stylish, and as if she was wearing the same designer brand clothes, for a total of 34 euros for both outfits. How awesome is that?
Now watch Kristen Leo's 'Thrift The Look' video below to find out just how she did it and, when you've finished watching it, do subscribe to her channel as she uploads excellent videos about vegan food, why you shouldn't buy fast fashion, how mega-corporations are destroying our communities, why she doesn't wear make-up and much more.
In other words, if you want to follow someone who is a social activist and who is into cruelty-free conscious living, but not all preachy and obnoxious about it, pick her.
I did. Months ago. And have already learned so much.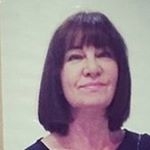 Latest posts by Michelle Topham
(see all)