How to make Mary Berry's crispy bacon rosti with fried eggs — so easy and delicious
There's one thing we British seem to love more than anything, and that's eggs and bacon. So, when I watched Mary Berry Everyday recently, and came across this wonderful recipe for her crispy bacon rosti with fried eggs, I was hooked.
Because this dish only requires a few ingredients, is incredibly simple to make and, frankly, is one of the best eggs and bacon dishes you will ever eat. How do I know? I've made it three times in the last week alone. And, no, it doesn't have to be a breakfast dish. I had it for dinner.
So, what are the instructions for how to make Mary Berry's crispy bacon rosti with fried eggs?
Follow the directions below, and you'll be eating this scrumptious dish in no time.
And, yum, lunch is approaching. I'm thinking it may be a good choice.
Ingredients
Mary uses sunflower oil, I used olive oil which was just as good
2 rashers smoked back bacon
1 small onion,
500g/1lb 2oz floury potatoes
2 free-range eggs
salt and pepper
Instructions for how to make Mary Berry's crispy bacon rosti with fried eggs
Cut up the bacon into small pieces and then fry in a pan until it is crisp.
Slice a small onion, place in the frying pan you just used for the bacon so that the onion cooks in the bacon fat. Put the lid on the pan, and leave it to cook for a few minutes.
Grate the potatoes using the larger holed grater.
If you want a crispy rosti (and I did), put the now-grated potato onto a tea towel, wrap it up into a bundle and squeeze the towel so most of the liquid comes out of the potatoes.
Put the now-squeezed potato into a bowl, add the bacon and the fried onions and salt and pepper.
Mix the mixture together, then put it into the same frying pan you just used for the bacon and onions and press it down with a fork to make a 'potato cake'.
Cook for about 10 minutes, then put it onto a plate to flip it over and return it to the pan so you can cook the other side.
While the second side of the rosti is cooking, fry the two free-range eggs in another frying pan.
When the second side of the rosti has cooked, put it on a plate, add the two fried eggs and it's ready to eat.
You could serve two people with this crispy bacon rosti, if you added a green salad or another side dish. Or you could, like me, eat the whole thing yourself.
And, if you would like a little extra 'tastiness' to it, you can grate some cheese into the potato mix before cooking it. I added a slab of grated Gouda to the mix one of the times I made it and, while it does add a chunk of calories and more fat, it was so worth it.
Now watch Mary Berry making her bacon rosti with eggs in the video below. I guarantee this is going to become one of your favorite dishes. Just like it now is mine.
And, if you're hooked on Mary Berry's amazing recipes, like I am, you may also want to try these, because I've made them and…yum!
Mary Berry's classic rice pudding is super simple to make
Mary Berry's lemon verbena drizzle cake is delicious
Try this lemon and pistachio meringue roulade from Mary Berry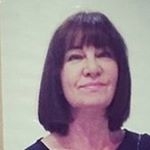 Latest posts by Michelle Topham
(see all)