If you want a brownie with low calories and a no-guilt taste then Nadiya Hussain's Cheesecake Brownies with Nutty Caramel are most definitely NOT them.
After all, when you make Nadiya Hussain's brownies with what seems like 10lbs of butter, pounds of chocolate, hazelnuts, dulce de leche and other delectable goodies, those chocolate brownies are going straight to your hips.
But, for me, currently living in Vienna, Austria under an inept government panicked about Covid-19, and with another idiotic economy-destroying lockdown pretty much inevitable, calories and my hips are the last thing on my mind.
That's why, when I watched Nadiya Bakes, Series 1, Episode 4, "Baking with Chocolate" on the BBC iPlayer a couple of weeks ago, I made sure I grabbed enough ingredients from my local supermarket that I could make these suckers many times.
Lockdown or not.
And yes, if you have not yet made Nadiya Hussain's Cheesecake Brownies with Nutty Caramel, I am here to tell you these are absolutely the best brownies I have ever eaten. Bar none.
How to make Nadiya Hussain's Cheesecake Brownies with Nutty Caramel
Ingredients
For the brownies
250g/9oz unsalted butter
250g/9oz dark chocolate
4 eggs
280g/10oz dark brown sugar
1 tsp instant coffee
120g/4½oz plain flour
30g/1oz cocoa powder
½ tsp salt
150g/5½oz dark chocolate chips
For the filling
200g/7oz chopped mixed nuts or hazelnuts
450g jar dulce de leche
½ tsp salt
For the cheesecake
300g/10½oz full-fat soft cream cheese
100g/3½oz caster sugar
2 eggs
1 tsp almond extract
1 orange, zest only
1 tbsp plain flour
cocoa powder
Method
Put the butter and the chocolate into a pan and place over an extremely low heat. Place the brown sugar and 4 eggs in a bowl and whisk together.
Pour the now-melted chocolate/butter mixture into the whisked sugar and eggs and whisk together.
Add the plain flour and whisk again.
Put 1 teaspoon of instant coffee into a measuring jug and add 2 teaspoons of hot water. Mix together and then pour into the bowl with all the other ingredients. Add the cocoa powder and salt. Mix.
Add a teaspoon of flour to the chocolate chips and mix around, then pour the chocolate chips into the cocoa mixture.
Pour the mixture into a baking paper lined 20 x 30 x 5cm/8in x 12in x 2in baking pan and bake for 20 minutes at 180C/160C Fan/Gas 4.
Remove the now-baked mixture from the oven and cool.
Pour the dulce de leche into a bowl and add the nuts or hazelnuts. Add a sprinkle of salt and mix.
Layer the mixture onto the top of the cooled brownies and put into the fridge for 30 minutes to cool.
Put the soft cream cheese into a bowl. Add 2 eggs, the caster sugar, the orange zest, almond extract and a tablespoon of plain flour.
Whisk together with a hand whisk.
Pour the cream cheese mixture onto the top of the caramel/nut coated brownies. Smooth the top with a thick knife and place back into the fridge. Cool overnight.
The day after, dust with cocoa powder, cut into slices and, yes, EAT.
Although, if you are like me, try not to eat the whole pan at one sitting as, yes, these brownies are sooooo good, I am absolutely sure I could. (article continues below…)
How to make Nadiya's Crisp, Chocolate & Salted Peanut Dessert
And that is how you make Nadiya Hussain's Cheesecake Brownies with Nutty Caramel.
Watch her video below to see how she does it and, if you are in the UK or can get access to the BBC iPlayer via a VPN, I highly recommend you watch Nadiya Bakes.
Especially the awesome 'Baking with Chocolate' episode, as there are several more chocolately recipes that look divine.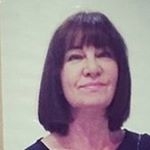 Latest posts by Michelle Topham
(see all)