How to make Wonder Woman cookies that are dairy free and vegan — yum!
With the new movie Wonder Woman being so popular this month, people are looking for recipes for good Wonder Woman cookies and cakes to make.
So, when I stumbled across this recipe for Wonder Woman cookies from popular YouTuber Rosanna Pansino on her Nerdy Nummies channel, I just had to share.
Especially because Pansino's Wonder Woman cookies are not only dairy free, but vegan as well.
And, with just a few simple ingredients, and some cool icing on top, these Wonder Woman cookies taste and look fabulous.
Ingredients
3 1/2 cups of all purpose flour
1 1/2 cups of vegan butter
1 1/4 cups of powdered sugar
1/2 teaspoon of salt
1 lemon
1 bag of black Royal Icing
1 bag of yellow Royal Icing
1 bag of red Royal Icing
1 bag of blue Royal Icing
1 bag of white Royal Icing
The cheapest way to get all the Royal Icing you need is to buy a box of basic white icing, (don't buy the boxes of colored icing, they're too expensive), and then color it the individual colors with various mixed food colorings.
And, of course, one cookie cutter.
Related: How to make delicious and cool Alliance and Horde Warcraft (WoW) cookies
Method
Mix the salt into the flour.
Mix the vegan butter and sugar together with an electric mixer, making sure it is completely smooth.
Zest the lemon and then squeeze the juice. Add both to the butter and sugar and mix everything together.
Add the flour to the butter/sugar mix and mix together with the mixer until smooth.
Form into a ball and roll the mixture flat using a rolling pin until it is about 1/4 inch thick. (You can chill it in your fridge for an hour before rollig if you want to, but you don't have to. But do chill it after the cookies are cut, as it helps them keep their shape in the oven).
Put the cookies in the oven and bake at 325 degrees for about 10 minutes. Keep checking on them to make sure they are not burning.
While the cookies are cutting, print out a sheet of six Wonder Woman logos(downloadable here), and tape tracing paper over the top of them. Using the black icing sugar, outline each logo and then, once it has dried, fill it in using the yellow icing.
When cookies are ready, take them out of the oven and let them cool.
Once cool, decorate the top of each cookie with blue and red icing. Let the icing harden.
Let all the icing dry, and then carefully place a Wonder Woman logo on top of each cookie., sticking it to the red and blue icing with a dollop of white icing.  And, for the final touch, use the white icing to paint stars on the blue.
And voila, your Wonder Woman cookies are finished.
Now watch how Rosanna Pansino does hers in the video below. And do give her a thumbs up on her video. She does an amazing job!
She also has a new baking line out that features more than 40 products including measuring spoons, mixing bowls, a very cute heart apron, cake sprinkles, a candy melter and a lot more.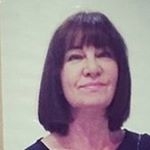 Latest posts by Michelle Topham
(see all)