Do you love dogs? Do you have an Instagram account? If so, before you do anything else today, you must subscribe to The Dogist on Instagram?
The Whoist?, you might be asking right about now.
The Dogist, aka Elias Friedman, is a photographer based in New York that spends his days wandering around the city asking people if he can photograph their dogs. When he's finished, he uploads the dog photographs to Instagram.
Advertising
Photographs his 1.8 million subscribers, and counting, then 'heart', comment about and moon over. Because The Dogist's photographs of dogs aren't your usual run of the mill puppy pictures. Instead, they are character studies of dogs, with all their little personalities out and on display for all to see.
Friedman gets his fabulous shots with squeaky dog toys and funny noises while he's taking photos. Noises that attract the dog's attention and make them keep looking at the camera. Friedman snaps them quickly and then moves on to the next one.
But what is just as fabulous as The Dogist's photos are the little comments about the dog he types next to them.
Comments like —
Advertising
"Turner, Spinone Italiano/Sheepdog mix (7 y/o), Jane & Greenwich Ave., New York, NY • "He was found running in Georgia with 206 ticks and heartworm. They brought him up to Connecticut and we got him there. He lived with our Lab, Jasmine, until she was 17. She had to accept him. He's not into tennis balls – if you threw that at him, it would hit him in the head."
right next to a photograph of the cutest white dog you have ever seen (check him out below).
The Dogist also has a new mini-documentary video about himself up on Vimeo. Just a five-minute peek following him around New York, watching him photograph dogs, and hearing him talk about why he does it.
And it's interesting to listen to what dogs mean to him because, as much as Friedman's photos are loved by almost two million people already, the dogs themselves are just as important to Friedman.
As he explains, "I don't have a dog right now. I don't have a girlfriend. I don't work with people the same way other people do. And I sometimes feel that loneliness. I come home and I'm like talking to my rug. But, I do connect with people through their dogs and I think, even though I don't have my own dog, dogs have opened up a whole world for me that's made me less lonely".
And, yes, as a writer who works from home, to some extent I can relate to that.
So check out The Dogist's Instagram account, although be warned, with 3,704 photographs of dogs to look at, and more being uploaded every day, you'll be busy for a while.
Although, if you want to see even more than that, Friedman also has a book out — The Dogist: Photographic Encounters with1,000 Dogs — which is getting a lot of praise..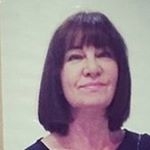 Latest posts by Michelle Topham
(see all)