Ireland's Molly Sterling has lovely second rehearsal at Eurovision 2015
Today is the second rehearsal at Eurovision 2015 in Vienna for artists who are in the second semi-final and, as rehearsals go, most artists have done even better than they did on day one.
Ireland's Molly Sterling is a prime example. She had a good first rehearsal a couple of days ago with her song Playing With Numbers, but her second rehearsal was even better. She seemed more relaxed, as did her backing singers and musicians.
Sterling was also making more eye contact with the camera than previously, although that still needs improvement, as she's losing her connection to the audience because of her shyness. Hopefully, she'll get that under control for the final rehearsal and, of course, for semi-final two on May 21st.
As for her staging, it's the same as the first rehearsal — a three-piece band and two backing singers, and Molly at the piano. With, of course, the stunning backdrop of a forest in yellows and golds.
My only complaint on this one is I really don't like the piano they chose. It's distracting, as it's so clunky you notice the piano and not her.
Watch Molly Sterling rehearsing Playing With Numbers at Eurovision 2015 in the video below. The song was co-written by her and Greg French. Quite amazing for someone who is only 17 — writing a Eurovision song and then singing it at the world's biggest music competition. She'll likely do well, too.
And, if you haven't seen Molly Sterling's video for Playing With Numbers yet, watch it here.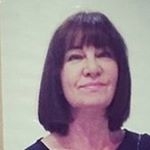 Latest posts by Michelle Topham
(see all)