Italy's Eurovision Song Contest representative Francesca Michielin had her first Eurovision 2016 rehearsal in Stockholm today and, if just this snippet is anything to go by, and the buzz all over social media as to how fabulous she was, Italy's representative looks like she is going to do very well.
Then again, Francesca Michielin and her song 'No Degree of Separation' have been in my Top 5 since she and it became the Italian representatives at Eurovision.
That's because Michielin can definitely sing live, and the song is catchy, beautiful and has a lovely 'Eurovision-style' message.
But, now that her staging, so far, looks cool and unusual, I'm loving her even more. Come on, there's even a family of rubber ducks!
As for Michielin's first rehearsal outfit? She wore a beige and brown floral jumpsuit over a white short-sleeved shirt. Nothing too glamorous, but quirky and fun and a nice fit with the staging. Color me very interested to see what she'll wear for her actual performance. (More official Eurovision photos here).
Italy, of course, is one of Eurovision's 'Big 5' countries; the countries that pay higher Eurovision fees to the EBU so get special privileges in return (and yes, I'm against that, as I think every country should compete on a level playing ground).
That means Francesca Michielin already has a place in the final, without having to 'prove herself' in the semis.
This year, though, a video performance of each Big 5 country's artist and song will also be featured in the semi-finals, so we'll get our first chance to see a clip of Francesca Michielin's live performance during the first semi-final on May 10th.
Meanwhile, watch a snippet of Michielin's first rehearsal in the video below. Lovely, isn't she?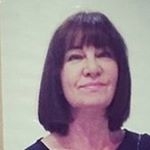 Latest posts by Michelle Topham
(see all)