Kathy Griffin has finally released Instagram photos of herself today showing off her new buzz cut, and fans are going gaga over it. And, yep, they should, because she looks stunning.
Griffin, of course, shaved her head back in July as a way to show solidarity with her sister Joyce, who was undergoing chemotherapy at the time as part of her treatment for cancer.
Sadly, Joyce died last month at the still young age of only 65.
Now, almost a month after her death, Griffin 'came out' on her Instagram account today and showed off her auburn buzz cut.
A buzz cut that suits her face shape so beautifully, and makes her look a little bit like an even more stylish Annie Lennox. (Well, come on, auburn always was a gorgeous color).
Plus, what an incredibly strong woman she looks! (And is!)
Of course, Kathy being Kathy, her photograph wasn't just your typical "Here I am with my new buzz cut" photo either. Instead, the comedian and actress gave a reason for why she  had decided to let us see her without a wig now.
"Kim Kardashian may get millions for her photo exclusives with People & US Weekly but I didn't want to accept $250 and a hot pocket from The Enquirer…So Here…"
Let me just say, Kathy, not only do you look absolutely stunning, I like that look on you even more than I like the long hair, and I always thought that was beautiful. Because, man, you look powerful!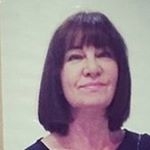 Latest posts by Michelle Topham
(see all)