Kendrick Lamar gives amazing performance of 'These Walls' on The Ellen Show
Kendrick Lamar never ceases to surprise. So it shouldn't have been surprising when Lamar rapped his new track 'These Walls' on The Ellen Show yesterday, and brought in two ballroom dancers and a painter to help him illustrate the song. But it was.
It couldn't have been more perfect though. Kendrick Lamar giving a powerfully stunning performance, the dancers twirling like on a 1970s version of Strictly Come Dancing, complete with that era's-style costumes, and the artist painting up a storm.
Ellen DeGeneres talked to Kendrick Lamar after his performance, and asked him what it meant to him being honored as a 'positive icon' by the State of California.
Lamar answered, "It means everything to me. Because I know there's a lot of kids in my neighborhood that's watching TV that's saying "You know what, I want to be a positive influence just like Kendrick Lamar, or whoever else is out there doing something for the good of the culture and for music. So it's everything."
Watch Kendrick Lamar rapping 'These Walls' on The Ellen Show below. Spectacular. And, of course, grab his new album 'To Pimp a Butterfly' one of the major digital music sites.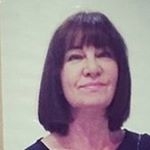 Latest posts by Michelle Topham
(see all)