Actress Kristen Bell is one of the people I recently started to follow on Instagram, as I think she's fabulous.
Of course, I would have been following her sooner, but she only kicked off her Instagram account a few weeks ago. Not that that matters too much as, with just 37 photos up so far, Kristen Bell has already proved how cool she is. (As if there was ever any doubt about that).
I mean, look at this one. Kristen Bell being as fan-girly as the rest of us. Except this time Her Fangirlyness was on the red carpet, and it was Shakira she wasn't even remotely cool about.
Wonder if she would have completely lost it if Shakira had actually turned around?
Or how about this one? Kristen Bell with her equally cool and just as crazy husband, Dax Shepard, at the premiere for Game of Thrones. And no, they didn't behave like normal people, nor did they dress like them. Then again, they rarely do.
Or her cute photograph for Mother's Day. Because yep, she does kinda look like the guy on the Quaker Oats box.
Although a heckuva lot more chic, and a lot funnier.
Then, if you know anything about Kristen Bell's obsession with sloths, and saw that hilarious Ellen segment when she tells the story about Dax having a sloth brought to her birthday party, the next one will be even funnier to you.
Especially when you remember how hysterical she got.
A photo posted by kristen bell (@kristenanniebell) on
And finally, there's Kristen Bell wearing a red clown nose to advertise her charity work with Red Nose Day — a charity that works with children around the world living in poverty — and one of just many charities Kristen has been involved with over the years.
Because, let's face it. Kristen Bell is not just cool. She's also funny and smart and kind and nice and a fabulous mother and a hilarious wife. And she's talented and interesting and cares about people and animals and the planet. And yeah… she's really just…perfect.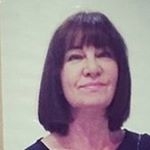 Latest posts by Michelle Topham
(see all)