Goin dark is fun. pic.twitter.com/B2WuifRVVX

— Kristin Chenoweth (@KChenoweth) August 29, 2014
I've adored Kristin Chenoweth since she showed up in my number one favorite TV show ever The West Wing. She was smart, she was sassy, she was cute and, when you saw her interviewed in person, she was all of the above again there too.
Of course, I always thought Kristin Chenoweth looked beautiful as a blonde, but this week she's been happily tweeting photographs of herself as a brand new brunette. And, let me tell you, her new hair colour looks stunning.
Rather than a true brown, Chenoweth has chosen to go a very dark blonde and, if her tweets are anything to go by, she's loving the look.
"Hello I'm such a blonde. Oh wait. Not anymore!" she tweeted, and then a little bit later — "Goin dark is fun."
Chenoweth had her new hair colour done at Gemini 14 Salon in New York City.
I'd have to say, going dark is not only fun, she looks absolutely stunning having done so as well.
What do you think? Leave any comments in the box below.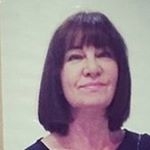 Latest posts by Michelle Topham
(see all)