One of my not-even-remotely-guilty-pleasures is spending part of my week, every week, perusing Lady Gaga's Instagram account. That's because she always has the coolest photos, the most amazing outfits, and you always find out there first when she's getting her next tattoo.
This month, while she's definitely outdone herself in the cool and amazing outfits department, one Lady Gaga outfit, more than any other, caught my eye.
It's an outfit Gaga has simply hashtagged #HausWork, and shows her wearing a loud and colorful tank-top style dress (or shirt? can't tell as the photo is cropped) and, on her head, an enormous checkered hat shaped like a cross between a star and the Mad Hatter's adornment from Alice in Wonderland. The whole effect is stunning.
Outrageous enough to still be Lady Gaga, but not so outrageous that you just think "God, that thing must be so uncomfortable to wear".
Check it out above. I think it's rocking.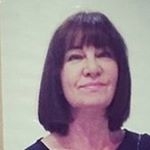 Latest posts by Michelle Topham
(see all)