Latvia's Aminata has another fabulous rehearsal at Eurovision 2015
Aminata, the Latvian representative for Eurovision 2015, had her second rehearsal at Eurovision 2015 yesterday and, as usual gave an absolutely superb performance of her song 'Love Injected'. A song that is modern, and cool, not a typical Eurovision song, and sung by a diminutive singer with a powerhouse voice.
It's not just the singer and the song that make Latvia a stand out number either. The staging is gorgeous, all black and white and red, and tiny Aminata standing in front of all of it in a stunning red gown belting out her song.
The only thing I would change? I think she looks better with her hair up, like she wore it at the Latvian National Selection competition, as it makes her look even more powerful.
All in all, Aminata should do very well for Latvia in her semi-final. In fact, if she's as good at semi-final 2 as she was yesterday, she should be a shoe-in for the grand final.
She also told the official Eurovision team she has been so surprised with the support she's been getting for her song and her performance since she arrived in Vienna, with a standing ovation and everyone telling her how wonderful she and the song is.
Watch her talk about it in the video below. Got to love that kind of positive emotion, don't you?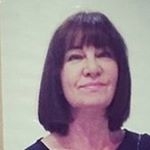 Latest posts by Michelle Topham
(see all)