British cook Nigella Lawson comes up with the best recipes. Not only did we get the most awesome Salted Chocolate Tart last week, look at this latest one — Chocolate Chip Cookie Dough Pots — how amazing are those?
Nigella's Chocolate Chip Cookie Dough Pots come from the latest episode of her current cooking show Simply Nigella (episode 5), and they are so ridiculously easy to make, even I managed to create them for dessert tonight.
All you need is some brown sugar, some unsalted butter, an egg, vanilla extract, plain flour, a pinch of bicarbonate of soda and salt, and some chocolate chips. Dark or milk chocolate is fine, it's just entirely to your taste.
Mix everything together and cook for 15 minutes and that, ladies and gentlemen, is that. Hard to go wrong really.
And, yes, once they're cooked, they are all gooey and melty and chocolaty and lovely. In fact, I'd recommend eating them while they're still warm, as that's what I did. Two of them actually. One with ice cream.
For the actual measurements of all your ingredients, this is what you need:
5½oz plain flour
½ tsp fine sea salt
½ tsp bicarbonate of soda
110g/4oz soft unsalted butter
85g/3oz soft light brown sugar
1 tsp vanilla paste or extract
1 large free-range egg
170g/6oz dark chocolate chips
ice cream or crème fraiche for a topping if you like
This time, I didn't have chocolate chips available, so I just cut up part of a bar of dark chocolate into small chunks and used that instead.
Now watch Nigella make her Chocolate Chip Cookie Dough Pots in the video below, and then get to work making your own.
As for Simply Nigella, there is one more episode left in the series (yes, this is a short one), which will air on BBC Two on Saturday morning, December 5th, at 11:30am, plus a Christmas special the week after.
You can currently watch all of episode 5, if you missed it, on the BBC iPlayer.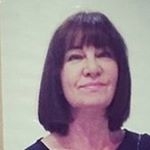 Latest posts by Michelle Topham
(see all)