EMA, the Slovenian national selection for Eurovision 2016 was held tonight and, at the end of the evening, ManuElla and her song 'Blue and Red' were heading to Stockholm in May.
10 artists performed at EMA in Ljubljana, but only two made it through to the super final — ManuElla, and Raiven with her powerful voice and her song 'Črno Bel'. After two final performances from the two, the public voted in a televoting and ManuElla came out the winner by quite a large margin.
And with ManuElla and 'Blue and Red', Slovenia now has a very good chance of making it to the final as the song is a funky, upbeat country song with a memorable melody, a cool banjo refrain, and ManuElla has a fabulous voice.
In fact, ManuElla and her song 'Blue and Red' easily shot into my top 5 so far, as it's one of the more unusual songs this year so far, and she is great.
Now all she needs to do is get rid of the ugly sailor-suit style white costume for something more spectacular and, of course, dump the costume change at the end of the song (why do Eurovision acts ever do costume changes, they're almost always dire?), and she could do very well.
Either way, though, I'd say an easy entry into the final for Slovenia this year. Yay!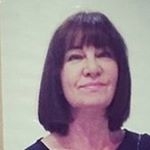 Latest posts by Michelle Topham
(see all)