Frankly, I've never been that interested in men with beards and tattoos. Men with tattoos, sure, love them. Men with beards? No, not really. Their facial hair scratches when they kiss you, and walking around with a raised red skin rash over half of my face for a few hours afterwards really isn't my idea of a lovely way to leave the house.
But, since Conchita Wurst slammed into my life a few months ago, I've been looking at men with facial hair and ink in a whole different light.
And, yes, of course, she's a girl with a beard and tattoos but, apparently, my admiration of her has actually lead me to an unbeknownst-before-now lust for hunky men with beards and tattoos. Who'd've thunk it?
So much so, when I started a new Tumblr blog this week, I found myself blogging and reblogging men with beards and tattoos far more than anything else. Even as fast as I was telling my readers, "No, this blog is not about men with beards and tattoos". Strange that.
And now I'm following Tumblr blogs like 'Beards + Tattoos', and 'Tattoos and Beards' and, of course, 'Bearded Men Licking Things'.
And so, while Conchita Wurst brings incredible new music into my life, she also has a lot to answer for in other respects. And I'm still not sure I like it.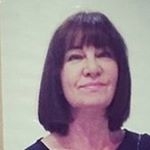 Latest posts by Michelle Topham
(see all)