There is a new manga on its way from Boku Girl mangaka Akira Sugito.
The manga is titled MoMo — The Blood Taker, and is described as a "hardboiled and supernatural murder mystery". It has been licensed by Seven Seas Entertainment in North America.
Prior to this, the series has been published in Japan since January, 2019 with its final chapters published in June last year, and now it will be available in English.
Seven Seas describes the MoMo — The Blood Taker plot like this:
Washed-up Tokyo detective Mikogami Keiji is investigating a series of murders where the victims have been torn apart and drained of all blood. Could these grisly new killings be related to the decade-old unsolved murder of the woman he loved?

As he renews his vow to find the creature that killed her, he has no idea he's being stalked by a silver-haired girl with secrets of her own. Quicker than you can say "vampire," Mikogami finds himself embroiled in a frightening conspiracy with actual monsters–but he'll do whatever it takes in his quest for revenge.
Yep, you guessed it, MoMo — The Blood Taker is a vampire so, if you're into that genre, which I definitely am, save the date for August, 2022.
That's when MoMo — The Blood Taker Volume 1 will be out in English in single volume editions. There will be nine volumes in total.
As a love-all-things-vampire kinda gal, all I can say is "Yay!".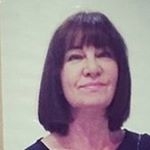 Latest posts by Michelle Topham
(see all)