MOTSA's 'No Fear' is eerie and bleak, yet also full of a strange kind of hope (video)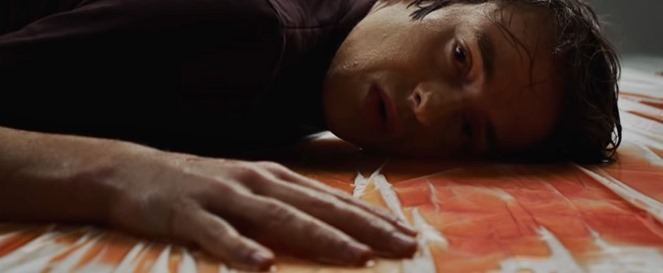 When music journalist Peter Schreiber, with his impeccable taste, tells me Austrian electronic artist MOTSA (aka Valerio Dittrich) is so good he should be huge, I tend to sit up and take notice.
After all, Schreiber sometimes sees something wonderful in new music I miss (WURST's 'Hit Me', which I initially detested and now can't get enough of, for instance).
So, several weeks ago, as he was raving about MOTSA's 'No Fear' feat. David Österle, you can bet I immediately went to check out the track and its video.
And yes, of course, he was right.
As it is not only the futuristic yet haunting synths, the layers of rich, bright sound, and the addictive melody that pull you in with this melancholic track, it is the clearness and sharpness of the music.
A clearness that takes me back to my 17-year-old self, sitting in an overstuffed armchair at my uncle's house in my small town in England, headphones on and listening to his copy of Mike Oldfield's Tubular Bells as loud as it would go.
Again and again and again.
MOTSA's 'No Fear' has a similarly keen clarity of sound, and a driving beat full of mood and intent.
MOTSA's 'No Fear' stunningly beautiful music video
The mood and intent of MOTSA's 'No Fear' sound is then magnified a hundredfold with the track's gorgeously filmed almost cinematic music video.
A video that adds form to to the music, as it begins with a man's voice explaining in French, "I'm scared. Everybody is scared. What most of us don't realize: All the things we are scared of are created by ourselves".
But a video in a bleak form as one man lopes through a desolate wilderness seemingly looking for life, while another lies hopelessly in a pool of water the color of rust or blood.
All while a third helmeted man, dressed from head to foot in black, runs clumsily through the same wilderness on bounding blades. Runs until other men in the same helmet and blades join him from behind the collapsed shells of what were once buildings.
Eerie and menacing in every atmospheric shot but, at the same time, full of a strange and disturbing kind of hope.
MOTSA's 'No Fear' music video stars Abdé Maziane, Nick Clapucci & David Österle. It was directed and edited by Rupert Höller .
And it is a work of art far more than just a music video, as it adds volume, power and mystery to MOTSA's already evocatively powerful song.
'No Fear' is the first single from MOTSA's upcoming eleven-track album Perspectives, which releases on June 7th.
And yes, just as Peter Schreiber believes, so do I.
With this kind of talent and vision, MOTSA should be huge.
Related Reading: Peter Schreiber's 'Top 10 Austrian Songs You Should Be Listening To'