When you see celebrity chef and British Bake-Off winner Nadiya Hussain on TV, you would never think she suffers from anxiety or panic attacks.
In reality, however, Hussain has suffered from both ever since she was a child. To an extent that she classifies her anxiety as severe.
That is also why Nadiya decided to make a documentary in collaboration with BBC One called Nadiya: Anxiety and Me. A documentary that was shown on the BBC tonight, in an attempt to prove anyone can suffer from anxiety and panic attacks.
And for Nadiya to show others who deal with anxiety like she does, that they are not alone, and that there is help available.
As she herself explains in the documentary, "Why am I making this documentary? Because I know, having anxiety is one of the most lonely, most isolating things to have, because you are your own worst enemy. And you live inside your head".
She went on to say, "I know there are thousands of people out there that suffer like me. And we need to talk. That's half of the healing. We need to talk".
Nadiya: Anxiety and Me shows the much loved celebrity chef meeting other people suffering from anxiety, and visiting a therapist for the first time to talk about her own anxiety issues. As a result, she begins a course of cognitive behavioural therapy (CBT).
During the show, Nadiya even took a train to London with the therapist who wanted to prove to her that her anxiety about taking trains was unfounded.
Not only did she manage to sit on a train without experiencing any panic attacks, mid-way through the journey, she also told the therapist "It's not as scary as I thought it would be".
Because that is how suffering from anxiety works. It makes people become incredibly anxious and upset about things that, once they are over, they often realize were not as frightening as they thought they would be.
Nadiya: Anxiety and Me is part of a three-part series, with two other episodes about depression and psychosis airing on BBC One in May.
If you missed the show tonight, it is available on the BBC iPlayer for the next 30 days. The trailer for it is also available below.
Related Reading: How to make Nadiya Hussain's Mocha Swirls — delicious and so easy
How to make Nadiya Hussain's Crisp, Chocolate and Salted Peanut Dessert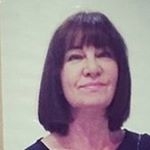 Latest posts by Michelle Topham
(see all)