Of Mice and Men release official 'Crystals' video
Remember that awesome 'Crystals' lyrics video Of Monsters and Men released a few weeks ago? Well, they've got another one out. The official 'Crystals' video.
The video was directed by Arni & Kinski and features a psychedelic Of Monsters and Men performing the song. It was filmed in Iceland.
Personally, while it's an interesting enough video, I prefer the lyric video featuring Icelandic actor Sigurður Sigurjónsson as his facial expressions just killed it.
But this song? It's one of my favorite releases of the year. The drumbeat alone is incredible, but when you throw in lead singer Nanna Bryndís Hilmarsdóttir's vocals, and that fabulous melodic chorus, 'Crystals' is one kickass song.
You'll find it on Of Monsters and Men's upcoming new album Beneath the Skin, which will release on June 9th. You can pre-order it on iTunes.
As for Of Monsters and Men, they are currently touring the US but will be heading to Europe in mid-June. If you'd like to see them in concert, you'd better grab tickets now. They're selling out every show they play.
You can find out more about their shows on their website.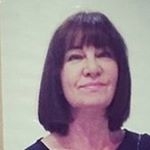 Latest posts by Michelle Topham
(see all)